Coffee break pacman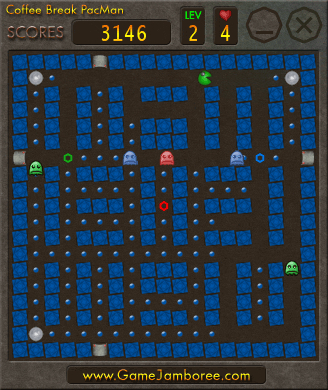 Download URL | Author URL | Software URL
Small fun coffee break game similar to PacMan. The objective of the game is simple but certainly not easy. You have to clear each level of all dots while avoiding hazardous encounters with evil the monsters. Download this freeware coffee break game now!
Related software (5)

A220 Mission 1 is an arcade style game ( Java Midlet for your Mobile / Cell Phone). Fly through mountains and cave systems eliminating multiple enemies before finally destroying th ...

Feeling like a bit of distraction and fun? Give Leaping Freddy a try! Climbing ladders and riding elevators, you'll explore numerous levels and collect treasure gems in the weird c ...

Blip, flip, launch and turbo launch sets of bubbles to fill any of the target zones before it's game over! Plus another six different game modes!

You are in control of a fox and must navigate through 50 fun mazes while eating a variety of food all the while avoiding the haunting ghosts that are after you. Swallow the power ...

Grab tools, bonuses and powerups without getting hit by trucks pacman style. Drive and navigate your fast car through 50 level mazes of pure excitement. A variety of features inc ...