Coffee break pacman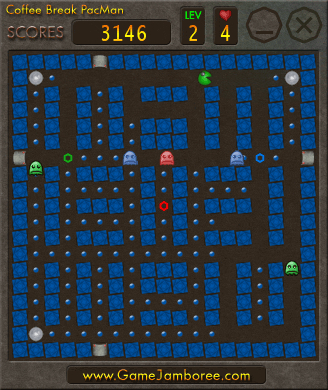 Download URL | Author URL | Software URL
Small fun coffee break game similar to PacMan. The objective of the game is simple but certainly not easy. You have to clear each level of all dots while avoiding hazardous encounters with evil the monsters. Download this freeware coffee break game now!
Related software (5)

A220 Mission 1 is an arcade style game ( Java Midlet for your Mobile / Cell Phone). Fly through mountains and cave systems eliminating multiple enemies before finally destroying th ...

Add one part Space Invaders and one part Galaga, then shake with twist of Asteroids to get AstroRaid, a modern version of an arcade space shooter. Use your missiles wisely and coll ...

Feeling like a bit of distraction and fun? Give Leaping Freddy a try! Climbing ladders and riding elevators, you'll explore numerous levels and collect treasure gems in the weird c ...

Blip, flip, launch and turbo launch sets of bubbles to fill any of the target zones before it's game over! Plus another six different game modes!

The pacnewman 2009 arcade game old style.Play with our game and enjoy fascinating moments.The sound and graphics remember the old arcade games, the speed of this games is really fa ...