A220 mission 1 - web page edition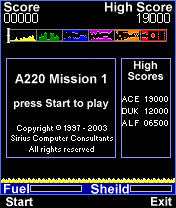 Download URL | Author URL | Software URL | Buy Now ($0)
Fly through mountains and cave systems eliminating multiple enemies before finally destroying the Pirate Base. Pick up weapons, shield and fuel power ups along the way. Multiple levels, terrains and enemies. Since the creation of trade routes between Earth and Mars (2120 AD) the Aranaxus crime Syndicate have been pirating the cargo vessels. Recent intelligence has uncovered what appears to be a pirate base, located in a cave system on the far side of the Moon. Take the new A220 and scout out the base. Fly into the cave system and if possible destroy it. As you know from testing the A220, this is our most advanced attack vehicle incorporating the newly invented shield generator system. With the ability to pick up weapon upgrades, Fuel and Shield cells in flight, a team of operatives have been sent ahead to place these within the cave system. Be sure to pick up the upgrades and make full use of them. I don't need to remind you how much the government has invested in the A220 so be carefu
Related software (5)

Small fun coffee break game similar to PacMan. The objective of the game is simple but certainly not easy.You have to clear each level of all dots while avoiding hazardous encounte ...
You are a red haired winged baby that is in geo-orbital space and possess a Bow and Arrow. Wacky enemies are traveling towards you and have collected Sports Balls and Satellites t ...
Click on letters in the 25 tile puzzle board to make valid English words while trying to figure out the mystery word to gain extra points. There are 1,000 mystery words in 14 diff ...

Defeat the family of enemy dragons while breaking through spheres breakout style. Dragons are in control of the universe and it is up to you to beat them through 50 colorful level ...

Play against the dealer in a super fun style BlackJack card game. Practice your BlackJack skills competing against the dealer with the option of choosing 1, 2, 4, 6 and 8 decks of ...