A220 mission 1 - web page edition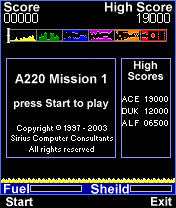 Download URL | Author URL | Software URL | Buy Now ($0)
Fly through mountains and cave systems eliminating multiple enemies before finally destroying the Pirate Base. Pick up weapons, shield and fuel power ups along the way. Multiple levels, terrains and enemies. Since the creation of trade routes between Earth and Mars (2120 AD) the Aranaxus crime Syndicate have been pirating the cargo vessels. Recent intelligence has uncovered what appears to be a pirate base, located in a cave system on the far side of the Moon. Take the new A220 and scout out the base. Fly into the cave system and if possible destroy it. As you know from testing the A220, this is our most advanced attack vehicle incorporating the newly invented shield generator system. With the ability to pick up weapon upgrades, Fuel and Shield cells in flight, a team of operatives have been sent ahead to place these within the cave system. Be sure to pick up the upgrades and make full use of them. I don't need to remind you how much the government has invested in the A220 so be carefu
Related software (5)

A breakout extravaganza with totally unique levels, music, graphics and boards. You choose which levels to play in the order you want. Each board consists of its own theme and musi ...

You are in control of a fox and must navigate through 50 fun mazes while eating a variety of food all the while avoiding the haunting ghosts that are after you. Swallow the power ...
Click on letters in the 25 tile puzzle board to make valid English words while trying to figure out the mystery word to gain extra points. There are 1,000 mystery words in 14 diff ...

Play against the dealer in a super fun style BlackJack card game. Practice your BlackJack skills competing against the dealer with the option of choosing 1, 2, 4, 6 and 8 decks of ...

Grab tools, bonuses and powerups without getting hit by trucks pacman style. Drive and navigate your fast car through 50 level mazes of pure excitement. A variety of features inc ...