Leaping freddy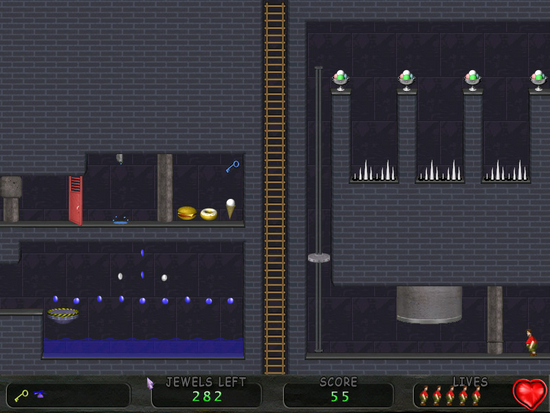 Download URL | Author URL | Software URL | Buy Now ($19.95)
Leaping Freddy is a new platform game where you meet a little kid, Freddy who decided to skip boring lessons and look for something more challenging. Driven by his irresistible curiosity, Freddy sneaks into the castle of a local wizard. So, your objective is to guide him through a maze of rooms, collect all gems and find the exit. Your journey won't be all milk and honey as to get into a new room you'll have to find the key that matches the door in color. Since the key may be a couple of rooms away, you'll have to do a lot of walkabout, including climbing ladders, ropes, riding elevators and jumping from one moving platform to another. Along with keys, you'll have to pick up all treasure gems and food as it restores his life vitality. Always watch where you go as the house is equipped with an advanced security system against curious intrudes like your Freddy. To save his lives, you'd better stay away from tricky traps, jump over acid puddles, run fast under big drop hammers a
Related software (5)

AstroRock 2000 features fast action, a rockin' soundtrack and more levels than a Spinal Tap amp volume setting! More aliens, more weapons, more asteroids, more attitude and more ex ...

Small fun coffee break game similar to PacMan. The objective of the game is simple but certainly not easy.You have to clear each level of all dots while avoiding hazardous encounte ...

Pacha World is a platform game that combines arcade action, excellent 3D graphics and addictive gameplay. Take control of the Super Star Pacha DJ's and try and retrieve the stolen ...

Blip, flip, launch and turbo launch sets of bubbles to fill any of the target zones before it's game over! Plus another six different game modes!

Addictive action freeware game with a number of bonuses and various enemies.