Strawberry jam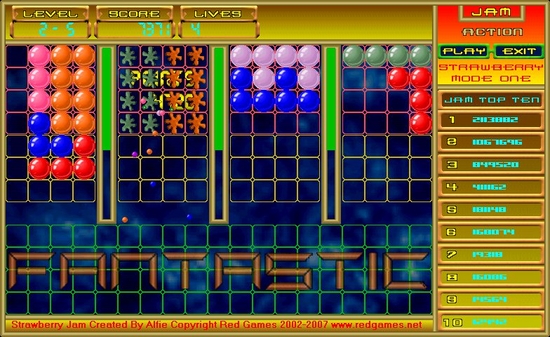 Download URL | Author URL | Software URL | Buy Now ($9.95)
Blip, flip, launch and turbo launch sets of bubbles to fill any of the target zones before it's game over! Plus another six different game modes!

*Playing Strawberry Jam might help you develop some transferable Skills, but if it doesnt at least you will have had some Fun.
* Every time you play a game it will be different, so you can play your favourite numbered mode combo again and again!
* When you buy Strawberry Jam it's Risk Free with our 30 Day Money Back Guarantee, free technical support and free updates.
* Enjoy the challenge of Strawberry Jam by using your skills and luck to play this non-violent puzzler.
* If you feel like a Relaxing play experience or want to Easily get into a numbered mode combo then play in Strategic mode.
* In the mood for a faster paced and more intense game?, then play any in one of the Six numbered modes in Action mode.
Related software (5)

Shifty Crab is upon the look for treasures. The game provides many detailed and interesting locations with plenty of atmosphere, which makes it a fascinating game world to explore.

Use your trusty pick axe, ropes and dynamite and go on a glorious hunt for treasure. But beware: spiders, bats, bears, skeletons and nasty falls all stand in your way. Classic old ...

Small fun coffee break game similar to PacMan. The objective of the game is simple but certainly not easy.You have to clear each level of all dots while avoiding hazardous encounte ...

A Flash game machine with 30 games built in and two ways to add hundreds of your own flash games, 30 of the hottest Flash games we could find for you after a long search organized ...

Feeling like a bit of distraction and fun? Give Leaping Freddy a try! Climbing ladders and riding elevators, you'll explore numerous levels and collect treasure gems in the weird c ...