Astroraid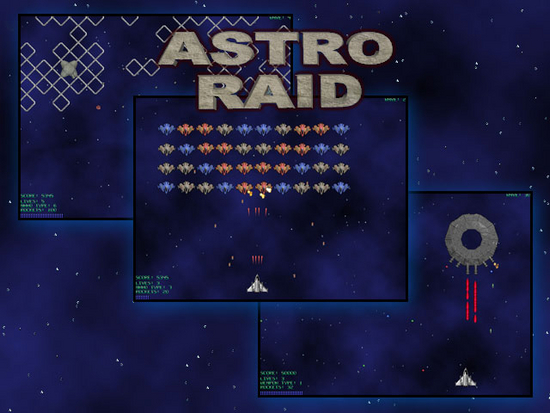 Download URL | Author URL | Software URL | Buy Now ($19.95)
Add one part Space Invaders and one part Galaga, then shake with twist of Asteroids to get AstroRaid, a modern version of an arcade space shooter. The fate of humanity is in your hands! The Earth is in the danger of being destroyed by a fast spreading alien virus that kills anybody it infects. The only hope is a vaccine that was developed on a remote space station by our scientists. You are now on your way back with the precious cargo on board, when you start to understand that the virus was intentionally introduced. How do you know it? Simple - it seems that everything goes wrong on your way back. First, someone tried to kill you while you were inside the space station. Second, unknown forces tried to sabotage your ship launch, but you found the fuel leakage just in time. Finally, you found a bomb on board. And now this - hordes of UFOs and alien ships are getting more and more fierce as you approach the Earth to save its inhabitant's. Captain, it's not going to be easy, but w
Related software (5)

Non-stop action space shooter with simple controls suitable for all ages! Shooting has never been so addictive. Clash'N Slash arcade game will hold you for a long time and innovati ...

Small fun coffee break game similar to PacMan. The objective of the game is simple but certainly not easy.You have to clear each level of all dots while avoiding hazardous encounte ...

Plazmoids! is an arcade game for Palm OS that combines superb high resolution, 3D-style graphics, sophisticated visual effects, and addictive techno music and sound.

Chickens. For centuries we have oppressed them, grilling, roasting, stewing, and stuffing them in buns. The time has come for us to pay. Intergalactic chickens are invading Earth, ...

Yargis is a pilot for the Earth military in the year 3013. Battle friends in space through creative multiplayer modes. Gravity physics gives Yargis an entertaining playing experien ...