Whack a difference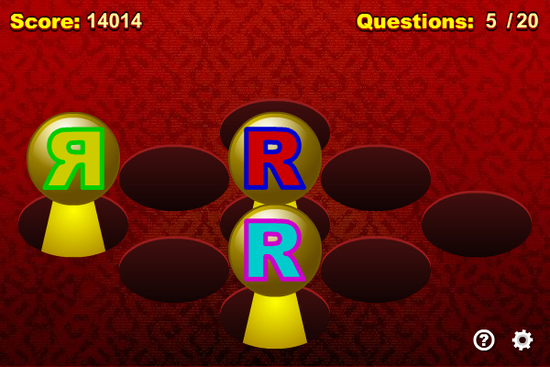 Download URL | Author URL | Software URL | Buy Now ($0)
Whack an object or two, and at the same time improve your reaction and judgment through the peaceful version of Whack a Kenny! Your goal in this game is to spot and hit the object which is different from the others. When the game starts, 3 objects will randomly emerge from the 9 holes on the ground. A ball is placed on each of the objects, and a letter, a number or a shape is drawn on each ball. You need to pick the odd object and click to whack it, for example, when three circles are shown on the balls but one of them is in blue color while the other two are red, you need to click and hit the blue one. Note that the differences may vary in terms of shapes, colors and positions. If you have picked the correct object, a circle will appear and a score will be awarded based on your reaction time. A cross will mark your wrong answers if necessary, but you may still continue to play until all 20 rounds are finished. Spot as many differences as you can to vent your pressure!
Related software (5)

Whack the kenny with style and accuracy!

Spot the identical objects as quickly as possible.

Spot the needle in a moving haystack!

The arithmetic streams of balls await you!

Arrange the balls in ascending order as quickly as possible.