Math lines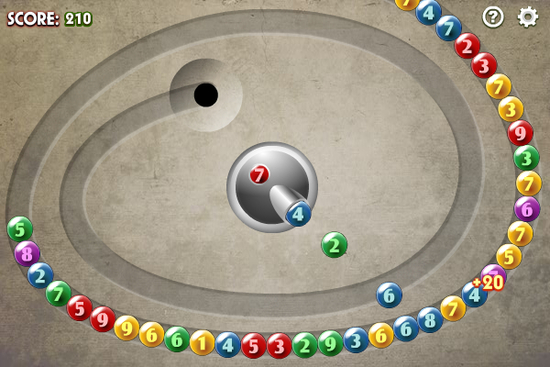 Download URL | Author URL | Software URL | Buy Now ($0)
Add up to 10 then destroy the balls, and the golden trophy shall be yours! In the game of Math Lines, your target is to remove the marbles by forming pairs that sum up to 10 so as to clear the line. When the game starts, a line of marbles marked with numbers 1 to 9 will be rolling on the path of a maze and moving towards the hole at the end of the path. Between the lines of the maze you will be given a launcher, in which a marble will be placed inside and ready to be shot, while the next piece will also be displayed. You may move your mouse to change the shooting direction of the launcher, or press Spacebar on your keyboard to switch the pieces, then click to release the marble. When the released ball forms a sum of 10 with an adjacent ball, those balls will be destroyed. Note that you can remove all adjacent balls of the same number with one shot, for example, when you shoot a ball of 7 and it forms a pair with a ball of 3, all of the adjacent pieces marked with 3 will also be removed
Related software (5)

Balance is a 3D puzzle game where players tilt a playfield to move balls through various obstacle courses. 'BALANCE TO WIN' is a game tournament where the Top 100 players will win ...

Calculate volume and surface area to blast away rocks and save your space ship! Galactic Geometry is an engaging 3D environment for learning about geometric figures and their equat ...

Arrange same color balls in a line by moving one ball at a time. When 4 or more balls are arranged in a line those balls disappear and your score will increase. There are few doub ...

Pyramid is a puzzle game of logic and math, with a bit of chance thrown in for fun. Remove the tiles from the board by matching the highest total combinations that are a multiple o ...

Like the Mayans of old, if you lose at this game, you shall be slain!