Eagle eye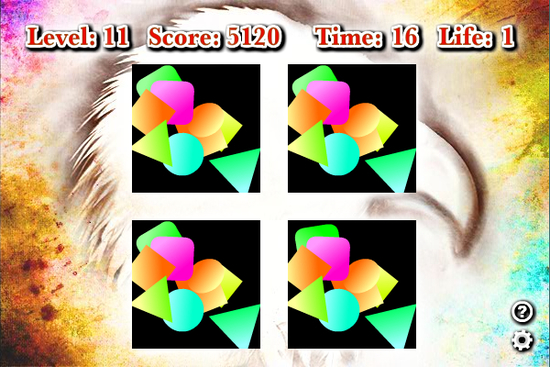 Download URL | Author URL | Software URL | Buy Now ($0)
Demonstrate your keen sight by spotting the picture which is different from the others before the time is up! In this game, you will be given a number of pictures, each contains a certain number of moving shapes. Observe the objects carefully and click the picture which is not the same with the others. Your score will be counted based on the remaining time and number of lives after you have completed a level. Starting the game with 3 lives, you will lose one life if you have made a wrong choice or if you cannot choose a picture within the given time limit. When all the lives are gone, the game ends. As you advance in the game, the number of pictures will increase, the shapes will move at a faster pace and they will have more colors and varieties. Do not fall into their traps nor let them fool you!
Related software (5)

PhotoSort is a duplicate picture finder. It has a beautiful and intuitive interface and the engine is so smart it will not only locate identical copies or pixel for pixel duplicate ...

Come and whack the quirky objects!

Find out the differences among the smileys.

Search for the required items in the living room.

Utilize your keen sense of observation to spot the needle!