Wassup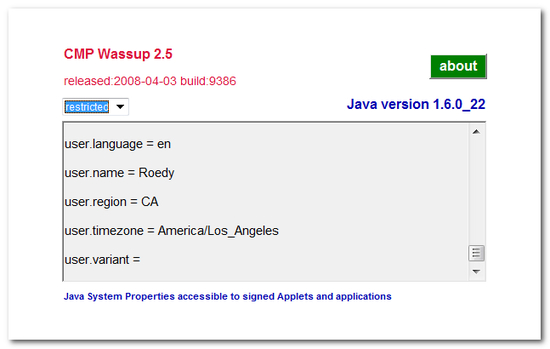 Download URL | Author URL | Software URL | Buy Now ($0)
Wassup let's you know what's up with your Java environment.
It will tell you the System Properties, as many as the
Security system will let you peek at. This includes such
things as which JVM is running, which version of Java, which
vendor. It may be run as either an Applet or an application.
When you run Wassup as an application it shows you
considerably more information. The Java sandbox considers it
a security risk to reveal that information to an Applet. As
an application, you can see all the possible System
Properties. When you run as an unsigned Applet, your view is
much more limited. If you OK the Java sandbox security override, it will
let you view the restricted properties.
Related software (5)

2JPEG is a reliable batch graphics converter allowing you to convert images to jpeg format from 50 image file types. The program has no windows interface and processes multiple fi ...

Real Freeware These products are NOT Trialware or Evalware - but fully functioning versions which are Free for you to use however you wish, making them truly Freeware products.

It is the world's first technology that allows you to automate and test web sites using images instead of cumbersome X/Y coordinates. It relies only upon the images that are render ...

Converts text with many possible cleanups, including preparation of HTML and Java, aligning in columns, character set conversion, case converting, removing excess white space, remo ...

Conversion teaching tool. Shows you how to convert any of the 17 basic Java types into any of the other. Conversion Amanuensis as your side whenever you need Java code to convert a ...