Conversion amanuensis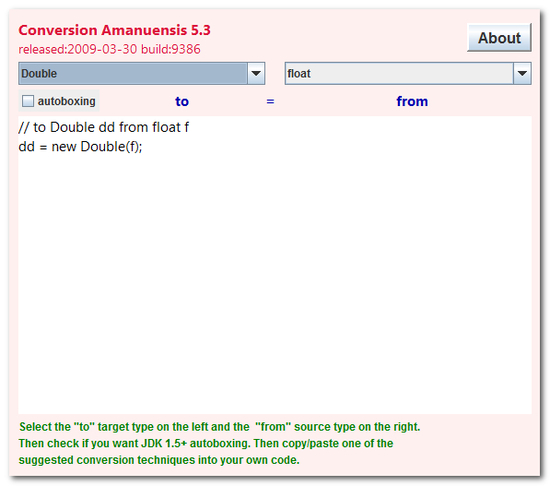 Download URL | Author URL | Software URL | Buy Now ($0)
Conversion teaching tool. Shows you how to convert any of the 17 basic Java types into any of the other. Conversion Amanuensis as your side whenever you need Java code to convert anything to anything else. Runs an as Applet or application.

To install, Extract the zip download with WinZip, available from
winzip.com (or similar unzip utility) into any
directory you please, often C:\ -- ticking off the (user
folder names) option. To run as an application, type:

java.exe -jar C:\com\mindprod\converter\converter.jar

adjusting as necessary to account for where the jar file is.

You can run it online at mindprod.com/applet/converter.html without
installing it.
Related software (5)

Stand-alone or integrated with EDM/PDM via its rich API, Eroiica Lite facilitates fast and accurate viewing, printing and conversion of engineering size CAD/CAM/CAE document forma ...

WordPerfect conversion of single wpd documents to MS Word. Great for converting wpd documents one at a time. WordPerfect Microsoft Word converter for WordPerfect conversion to Wo ...

Converts text with many possible cleanups, including preparation of HTML and Java, aligning in columns, character set conversion, case converting, removing excess white space, remo ...

I/O teaching tool that generates sample Java source code to do 617 types of I/O to read or write the console, a sequential file, a random access file, a String, an array of chara ...

Wassup let's you know what's up with your Java environment. It will tell you the System Properties, as many as the Security system will let you peek at. This includes such things a ...