4ie imacros web macro recorder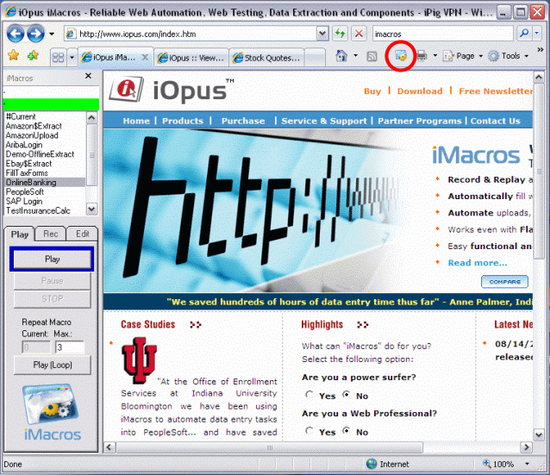 Download URL | Author URL | Software URL
Automate your web browser. Record and replay repetitious work.

iMacros has many uses:

(1) Form Filler on Steroids and Password Manager

iMacros relieves the repetition of checking on the same sites every day, remembering passwords, and filling out web forms. iMacros is the only form filler that can autofill web forms that stretch over several pages. All information is stored in human-readable, plain text files that can be easily edited. Passwords are stored securely with 256-Bit AES encryption.

iMacros is a good alternative Solution to Enterprise Single Sign-On (SSO). Users memorize only one master password. iMacros remembers all the rest, and provides true automated logins (a better Single Sign-On).


(2) Web Automation

iMacros can also automate the download of pages (with or without images) and all kinds of images or files. In the other direction it can also automate the upload of data from a file to websites. You can use variables inside the macros, and import data from CSV fil
Related software (5)

It is the world's first technology that allows you to automate and test web sites using images instead of cumbersome X/Y coordinates. It relies only upon the images that are render ...

Automate, schedule and batch file and web page downloads with command line utility. Very easy to use and integrates well with batch files, windows scripts, visual basic or the wind ...

Advanced scheduler, reminder and automation manager with powerful scripting language. It can start applications, display messages, dial and hang up, shutdown/hibernate and wake up ...

A special edition of an advanced task scheduler that allows you to prepare system maintenance tasks locally and deploy them to all computers in your organization. Control remote ta ...

AutomationBox Tools are an excellent kit of handy utilities that will greatly facilitate your automation tasks and expedite your daily operations. Free, flexible, versatile and eas ...