Image recognition web test plugin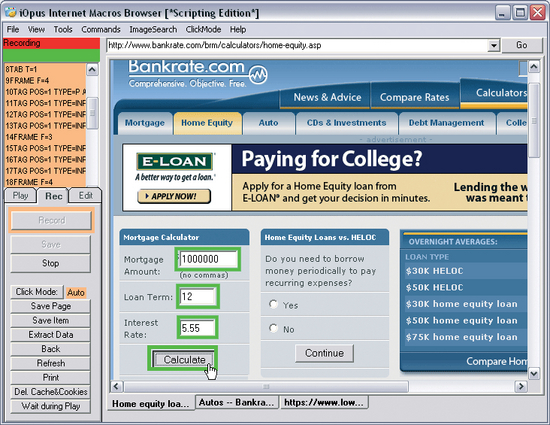 Download URL | Author URL | Software URL | Buy Now ($998)
The Image Recognition Plugin is a powerful add-on that uses machine vision technology for web testing sites that contain non-HTML elements. The Plugin supports Flash applets, Java applets, Movie Player Applets, ActiveX, and all other controls.

The Image Recognition Plugin is the world's first technology that allows you to automate and test web sites using images instead of cumbersome X/Y coordinates. It relies only upon the images that are rendered in the browser, regardless of the technology that created them. Simply give the software information about a button or an image, and you can use the button in your macro commands. The program will find and click the button, even if it is in a different location or has changed colors.
Related software (5)

iMacros relieves the repetition of checking on the same sites every day, remembering passwords and filling out web forms or web scraping. Web professionals can use the software for ...

Automate, schedule and batch file and web page downloads with command line utility. Very easy to use and integrates well with batch files, windows scripts, visual basic or the wind ...

Advanced scheduler, reminder and automation manager with powerful scripting language. It can start applications, display messages, dial and hang up, shutdown/hibernate and wake up ...

FlipBookPages.NET is asp .net web server control (dll component) to add page flipping engine to your web forms by simply dragging the control from your ToolBox. offer a a smooth an ...

Wassup let's you know what's up with your Java environment. It will tell you the System Properties, as many as the Security system will let you peek at. This includes such things a ...