Twintrix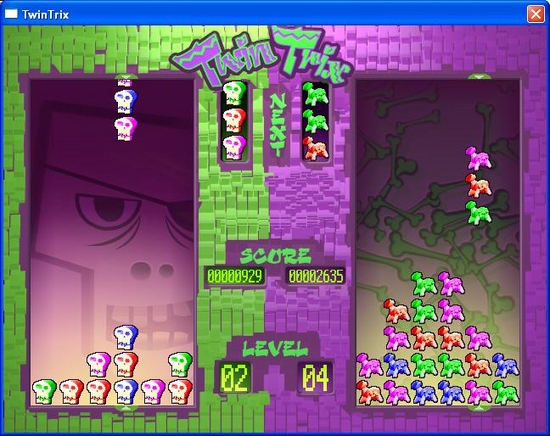 Download URL | Author URL | Software URL

Twintrix is heavily inspired by the Atari ST classic Klatrix, which is a mixture between Klax (Atari's attempt to steal the puzzle game crown from Tetris) and Tetris itself. It's also similar to countless other puzzle games like Columns.

The principle behind Twintrix is simple, connect rows of identical tiles to destroy them. The minimum length of a row is 3 tiles and they can be in any direction. Several rows can be destroyed at once, and when the remaining tiles fall down, new rows are often created causing further destruction and giving more and more score. The more tiles you destroy per move, the more you score.

Tiles fall down the screen in groups of 3, these can be shuffled into the required order then dropped onto the piles at the bottom of the screen. The next set of tiles is displayed; always a good idea to plan your next move before the current tiles fall home. The game is over if any tiles reach the top of the screen.

Twintrix is for 1 or 2 players. Players
Related software (5)

This fast-paced, complex word puzzler tests your visual and dexterity skills in a graphically exciting arcade environment while pushing your vocabulary & word building skills to th ...

Ziggle is a simple and intuitive yet infinitely replayable and challenging free PC arcade strategy puzzle game. Use your Mouse, Keyboard, Joypad or PC Dance Mat to keep as many of ...

Very addictive puzzle game, the purpose is to collect parts of the tubes in the correct order in the limited time. The game is absolutely free!

New nice absorbing puzzle game for all ages and tastes with a number of levels brings you a lot of pleasure and fun. The purpose of the game is to remove all balls from the field. ...
Click on letters in the 25 tile puzzle board to make valid English words while trying to figure out the mystery word to gain extra points. There are 1,000 mystery words in 14 diff ...