Logic mahjong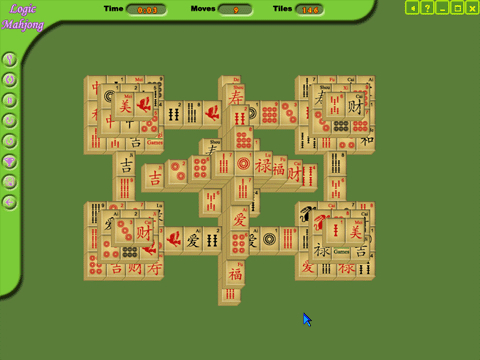 Download URL | Author URL | Software URL | Buy Now ($19.95)
Logical Mahjong is a single player board game / puzzle game. (also known as Kadai games, pile o tiles, same tiles game). The game is based on Chinese mahjong board game, and has been modernized to suit computer puzzle lovers.

In this game, you have to remove identical pair of tiles from a given mahjong board. You can remove tiles that have either one of its sides free with no tiles on top of it. If you remove all the tiles from the board, you win the game. The faster you clear the better. The time taken to clear the board is recorded for each board, and the best 8 times are recorded as well. The trick is to try to clear the board faster than the recorded time.

Logic Mahjong comes with 5 tile sets ( Chinese lucky symbols, English Alphabets, Pets, Flowers and Holiday), 400+ layouts in 4 categories: small, medium, large and giant. Each category has got different shape of piles to choose from. Some layouts in giant category have more than 1000 tiles! The tiles are designed with variable
Related software (5)

5 Realms of Cards interweaves a revolutionary new solitaire gameplay with a fairy-tale story. Explore over 70 levels to help a young princess named Jokerina restore peace and beaut ...

Place cards on the playing field, so that they all turn face down. The cards are moving along the chain and you should use them before they reach the chain's other end, otherwise y ...

Hidden Swap Buttons is a logic game. This game will come in handy not only at home, but also at the office where you will be able to play in your spare time, and, if necessary, hid ...

Start your quest for treasures in this modern remake of well known classic game. You can play as one, and together with friend. Action of game occurs in picturesque interiors of an ...

A fun and unique Tetris game with 8 puzzle pieces. All the standard ones are included and even some different designed ones. Each level the game will speed up and throw you a lar ...