Drop job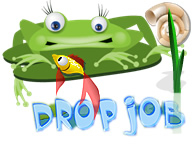 Download URL | Author URL | Software URL
Join our underwater adverntures and have fun bursting water drops at the bottom of the spring pond. Your task is to fill all the cells with water and collect as many big drops as you can at the end. Calm, spring pond... I said calm? No way! Meet very funny frog who will follow you all the pond round. The Frog will be claping hands when you succed, cheering you up or giggling at you when you fail to complete your mission.
Two different modes are available in the game: Puzzle and Arcade (time trial).
Related software (5)

SynSpace is a free multiplayer spacewars game for 8 players per channel. Players drop in on an ongoing battle as they feel like it. Powerups provide ships with additional weapons ...

This fast-paced, complex word puzzler tests your visual and dexterity skills in a graphically exciting arcade environment while pushing your vocabulary & word building skills to th ...

Start your quest for treasures in this modern remake of well known classic game. You can play as one, and together with friend. Action of game occurs in picturesque interiors of an ...

New nice absorbing puzzle game for all ages and tastes with a number of levels brings you a lot of pleasure and fun. The purpose of the game is to remove all balls from the field. ...

Scarlet Grains is strategic labyrinth game. The object is to pick up a set number of coins to open the exit to the next level. But beware, danger lurks at ever turn!