Ziggle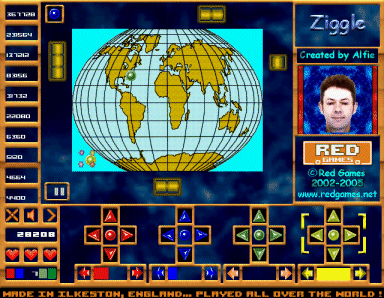 Download URL | Author URL | Software URL
Ziggle is a simple and intuitive yet infinitely replayable and challenging free arcade strategy puzzle game for the PC.


Use your Mouse, Keyboard, Joypad or PC Dance Mat to keep as many of the randomly spawning Blobs on the world map for as long as you can and at the fastest speed. Get more points, extra lives or more time by picking up the Star Bonus with a Blob. The timing of a pick up can make all the difference and choosing whether to go for a particular Star Bonus pick up may turn out to be critical !


Use the outer Golden bumpers to help you keep the Blobs on the map. Watch the Blobs when they hit a Bumper because you never know in what direction they may bounce !


The Mouse, Keyboard and Joypad controls are all enabled within every game, so you can play with one specific device or any combination of devices. Switch control over to your PC Dance Mat (by Logic3 and available from www.dancemat.com) and Ziggle away with your feet !


You can reset any of your Top Ten scores simpl
Related software (5)
Logic Mahjong is a single player logic game. Remove the matching tiles from a mahjong board to win the game. 400+ Layouts, some up to 1200 tiles. Puzzles have a logical solution. U ...

Comprehensive online game collection with no signup process or complicated steps to get started...just a simple way to play games online for free! Action, adventure, arcade, sports ...

Tilelander is a surprising game that can be played as a puzzle or as an action game - it's up to you whether to play in a relaxed mood or with a furious attitude!

Addictive action freeware game with a number of bonuses and various enemies.

A fun and unique Tetris game with 8 puzzle pieces. All the standard ones are included and even some different designed ones. Each level the game will speed up and throw you a lar ...