Mini football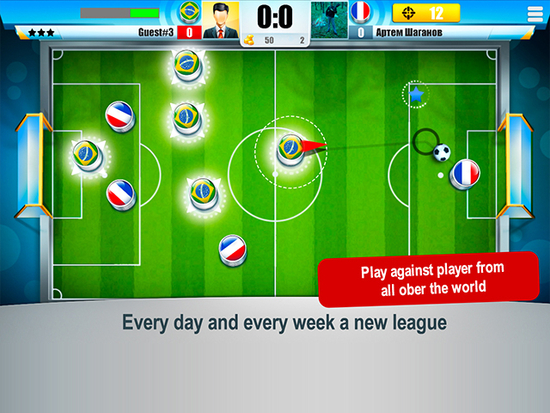 Download URL | Author URL | Software URL | Buy Now ($0)
Emotional and simple gameplay, great physics. Mini Football is easy and fun to play!
Play with your friends online. Play blitz games against players from all over the world.
You can play offline against a friend in the same device or play with AI.
Choose your hockey team, defend your nation's colors or choose premium skin. Collect all football teams, collect all formations and improve your skills. Good luck!
United Kingdom, Germany, France, Italy, Spain, Brazil, Russia and other national teams.

Features:
- Online and offline multiplayer game
- Online World Championship
- Simple and fun gameplay
- Amazing soccer physics
- Play against your friends
- Lobby chat and short messages in game chat
- Collect all teams and formations

System:
- Windows 98/ME/XP/Vista
- Pentium III processor
- 256 Mb RAM
- 50 Mb hard drive space
- 32 Mb video memory
- Sound card
- DirectX 7

https://play.google.com/store/apps/details?id=c om.playmobilefree.minifootball
https://itunes.appl e.com/ru/app/mini-foo
Related software (5)

You're lost, cold, and need a place to sleep for the night. But there's more going on than it seems. You will enjoy a great atmosphere and sound. Particular attention is visual com ...

Ra, the great Egyptian god of the sun, began to notice that every evil began to penetrate his great temple at night. For a long time he didn't know what to do, and the player in th ...

The game is called Bood in which you play as jelly. Pass through each area, using his wits and dexterity! The game has 15 challenging levels. Good luck!

SpaceFighter is a hardcore arcade game of survival in which you must dodge asteroids. You are given different weapons to defend the ship. Score points for every asteroid that you d ...

Two brothers made their first game and it turned out to be quite interesting. Like all creative folks, they couldn't just stop there. They thought and decided that their true cal ...