Foxpac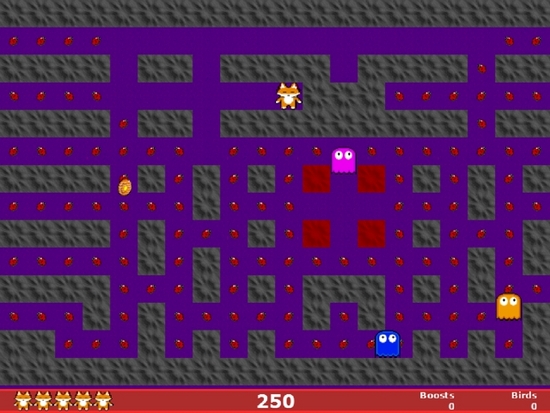 Download URL | Author URL | Software URL | Buy Now ($9.99)
You are in control of a fox and must navigate through 50 tough mazes while eating a variety of food all the while avoiding the haunting ghosts that are after you. Swallow the power frogs and then you can destroy those mean ghosts and earn more points. Additional features added like FoxBoost, screen scroll and ghost freeze never seen in the original pacman game. Choose from 3 difficulty modes from easy to hard and avoid the many bigger animals that are out to get you that come along the further you get in the game. Also included is delightful music and different background color schemes. Super fun pacman style action playable by the keyboard or a joystick. After your game upload your score to the internet and be ranked against players from all over the world.
Related software (5)

A breakout extravaganza with totally unique levels, music, graphics and boards. You choose which levels to play in the order you want. Each board consists of its own theme and musi ...
Click on letters in the 25 tile puzzle board to make valid English words while trying to figure out the mystery word to gain extra points. There are 1,000 mystery words in 14 diff ...

A fun and unique Tetris game with 8 puzzle pieces. All the standard ones are included and even some different designed ones. Each level the game will speed up and throw you a lar ...

Grab tools, bonuses and powerups without getting hit by trucks pacman style. Drive and navigate your fast car through 50 level mazes of pure excitement. A variety of features inc ...

Stop the onslaught of many menacing monsters from invading with the rocket ship. You control the quick ship with either the keyboard or joystick and must shoot the horror characte ...