Worldcast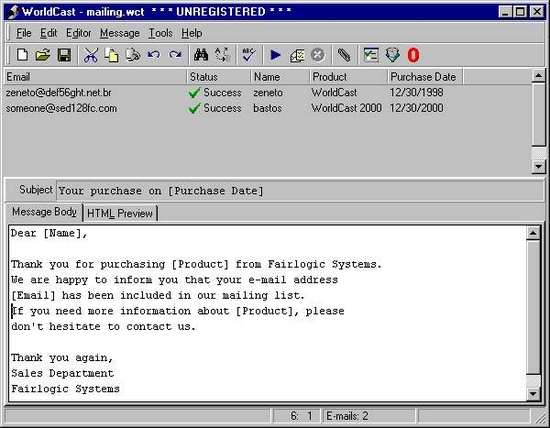 Download URL | Author URL | Software URL | Buy Now ($0)
WorldCast is a free two-in-one tool: A free bulk email software and also an e-mail address validator. It detects many of the common invalid addresses that exists on many emailing lists, reporting errors like bad email addresses, time-out operations, etc., providing a detailed log of the entire delivering process. Features automatic subscription/unsubscription of email addresses, a syntax-oriented editor, mail merge capabilities, HTML editing and preview support, attachments, spell-checker, Thesaurus, extensive filtering of the results, crash recovery, message attachments, etc. Using direct multi-threaded delivery, it ensures 100% usage of your connection capabilities. WorldCast as a bulk emailer acts like a self-sufficient SMTP relay, sending your customized message straight out to the recipient's mail server (without using your ISP's SMTP server, although it still offers the possibility to use any SMTP server). It has extensive mail merge capabilities . Given a certain emailing list,
Related software (5)

Essential Windows software for automating a business's email marketing. Carefully crafted to achieve the highest delivery rates, it allows you to reach more of your audience and g ...

Enables .NET applications to verify bulks of e-mail addresses for correct syntax or existence via RegEx check, DNS MX lookup query, SMTP connection and test send attempt without ac ...

.NET classes which let your applications create, send, manage, download and parse mail. SMTP, POP3, IMAP, SSL, S/MIME, DNS MX, anti-spam, HTML mail, attachments, international char ...

Reduces response times of mail sending operations by offloading actual delivery of e-mails from the application to the service. Compatible with any software which can make EML file ...

MailBee.NET SMTP enables .NET applications to compose, mail merge, send to SMTP server (including Gmail and MS Exchange), submit to IIS queue, direct send without SMTP server. Supp ...