Wacky air attack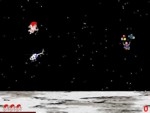 Download URL | Author URL | Software URL | Buy Now ($12)
You are a red haired winged baby that is in geo-orbital space and possess a Bow and Arrow. Wacky enemies are traveling towards you and have collected all the Sports Balls and Satellites throughout the Earth to bring you to a demise. You are the only one left to protect the galaxy. Shoot your never ending supply of arrows and destroy the enemies through 3 Missions and 45 Levels to reinstate peace within the galaxy. Some weird enemies include ghosts, hot dogs, astronauts, helicopters and much much more. You can fly your baby with the keyboard or a joystick and of course submitting scores to the internet high score tables is included. An ingenious and exciting side scroller!
Related software (5)

A breakout extravaganza with totally unique levels, music, graphics and boards. You choose which levels to play in the order you want. Each board consists of its own theme and musi ...

You are in control of a fox and must navigate through 50 fun mazes while eating a variety of food all the while avoiding the haunting ghosts that are after you. Swallow the power ...
Click on letters in the 25 tile puzzle board to make valid English words while trying to figure out the mystery word to gain extra points. There are 1,000 mystery words in 14 diff ...

A fun and unique Tetris game with 8 puzzle pieces. All the standard ones are included and even some different designed ones. Each level the game will speed up and throw you a lar ...

Stop the onslaught of many menacing monsters from invading with the rocket ship. You control the quick ship with either the keyboard or joystick and must shoot the horror characte ...