Mystery words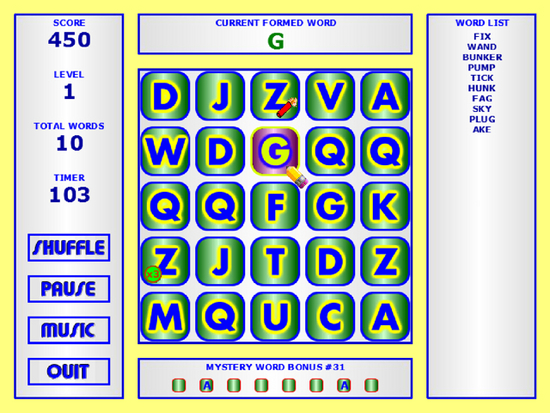 Download URL | Author URL | Software URL | Buy Now ($9.99)
Click on letters in the 25 tile puzzle board to make valid English words in a vast dictionary of over 200,000 words while trying to figure out the mystery word to gain extra points. There are 1,000 mystery words in 14 different categories. One of the categories is questions pertaining to the mystery word which will give you extra points for answering it correctly. The longer the words are the more points you will get and even get special points for creating words that are over 7 letters. Make words with the multiplier bonuses to gain even more points. Beware of the fatal firecrackers as you must make a word with it before it explodes or the game will be over. Each level is 3 minutes in length and the further you get in the game the more firecrackers will appear making it more difficult. After your game upload your score to the internet and be ranked against players from all over the world. A fantastic Boggle like board game with several fun twists.
Related software (5)

A breakout extravaganza with totally unique levels, music, graphics and boards. You choose which levels to play in the order you want. Each board consists of its own theme and musi ...

You are in control of a fox and must navigate through 50 fun mazes while eating a variety of food all the while avoiding the haunting ghosts that are after you. Swallow the power ...

A fun and unique Tetris game with 8 puzzle pieces. All the standard ones are included and even some different designed ones. Each level the game will speed up and throw you a lar ...

Defeat the family of enemy dragons while breaking through spheres breakout style. Dragons are in control of the universe and it is up to you to beat them through 50 colorful level ...

Stop the onslaught of many menacing monsters from invading with the rocket ship. You control the quick ship with either the keyboard or joystick and must shoot the horror characte ...