Viking journey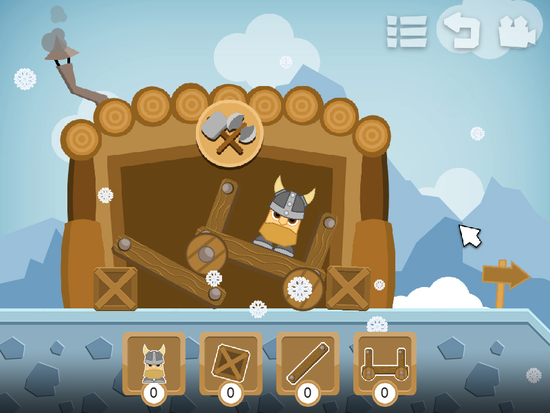 Download URL | Author URL | Software URL | Buy Now ($0)
In this casual game Viking Journey, you have ferry Viking troops to the castle and using skill to be rewarded. The game is based on physical laws, so you can use anything from a simple lever to catapult objects. Help the Vikings get to the castle while simultaneously collecting relics...

Gameplay:
Control of the game is by mouse. To utilize the available item drag it from the panel on the field, which doubles as a limited workshop. Interaction of objects with different mechanical properties can help you. For example, on the first level try to build a catapult for the Vikings' use. Falling from a great height, weight, according to the principle of the lever, will cause the load on the opposite side to fling at high speed. Look around the entire level with the mouse by swiping at the right edge of the screen.

In this casual game Viking Journey, you have ferry Viking troops to the castle and using skill to be rewarded. The game is based on physical laws, so you can use anything from a s
Related software (5)

Helicopter arcade game, suitable for novices, hardcore gamers and everyone in between. As you progress you'll face new, more dangerous enemies, new weapons and a variety of surpris ...

Intelligence reported that close to the Namibian settlement "Gibeon" in a dried-up riverbed "Hardap" was seen a caravan of insurgents suspected of Clan Desert Claw. According to ou ...

Susie always had a dream which was to open her own pastry shop. And she knows that true success will only come with effort. So she set off to sell her own cakes to pay for the vent ...

Collect berries in this fun and crafty game. By collecting 3 similar berries in row, you pocket the group. Hold onto what you have, be careful not to lose any from your pocket! Hav ...

Immerse in the depths of the sea on your own submarine. Try to collect as many points by collecting starfish and avoid the dangers.