Viking journey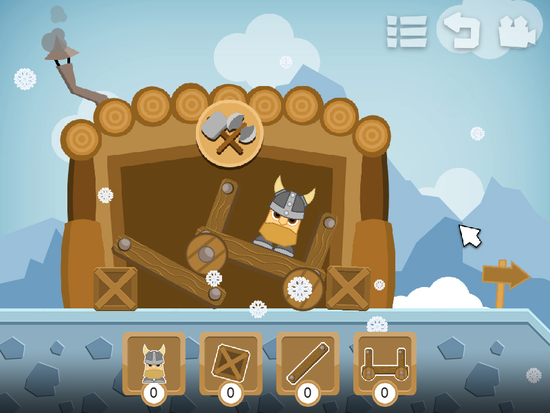 Download URL | Author URL | Software URL | Buy Now ($0)
In this casual game Viking Journey, you have ferry Viking troops to the castle and using skill to be rewarded. The game is based on physical laws, so you can use anything from a simple lever to catapult objects. Help the Vikings get to the castle while simultaneously collecting relics...

Gameplay:
Control of the game is by mouse. To utilize the available item drag it from the panel on the field, which doubles as a limited workshop. Interaction of objects with different mechanical properties can help you. For example, on the first level try to build a catapult for the Vikings' use. Falling from a great height, weight, according to the principle of the lever, will cause the load on the opposite side to fling at high speed. Look around the entire level with the mouse by swiping at the right edge of the screen.

In this casual game Viking Journey, you have ferry Viking troops to the castle and using skill to be rewarded. The game is based on physical laws, so you can use anything from a s
Related software (5)

Move blocks and destroy obstacles, but don't get zapped by the laser beams. This puzzle game will make you think, but if you get stuck you can always use a hint and see how it is p ...

Intelligence reported that close to the Namibian settlement "Gibeon" in a dried-up riverbed "Hardap" was seen a caravan of insurgents suspected of Clan Desert Claw. According to ou ...

Collect berries in this fun and crafty game. By collecting 3 similar berries in row, you pocket the group. Hold onto what you have, be careful not to lose any from your pocket! Hav ...

In this unusual 3 in a row game you have to go on a journey for the search of your sisters. Mysteriously they evaporate, leaving behind a trail of crystals, and you need to find ou ...

An ancient temple arose right out of the ground, it's a miracle! It hovers in the air, delighting all in its majesty. What does conceal within its walls? Perhaps the greatest knowl ...