The collector of berries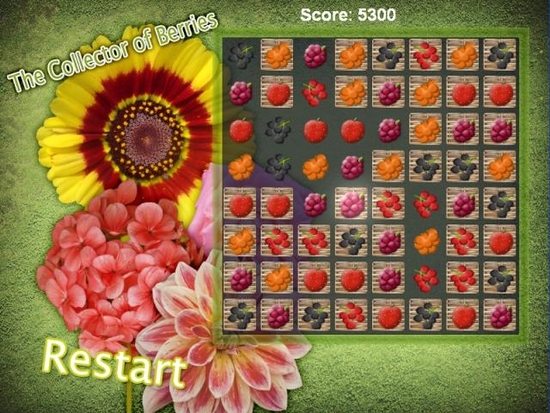 Download URL | Author URL | Software URL | Buy Now ($0)
Collect berries in this fun and crafty game.
By collecting 3 similar berries in row, you pocket the group.
Hold onto what you have, be careful not to lose any from your pocket!
Have fun!
Collect berries in this fun and crafty game.
By collecting 3 similar berries in row, you pocket the group.
Hold onto what you have, be careful not to lose any from your pocket!
Have fun!
Collect berries in this fun and crafty game.
By collecting 3 similar berries in row, you pocket the group.
Hold onto what you have, be careful not to lose any from your pocket!
Have fun!
Collect berries in this fun and crafty game.
By collecting 3 similar berries in row, you pocket the group.
Hold onto what you have, be careful not to lose any from your pocket!
Have fun!
Collect berries in this fun and crafty game.
By collecting 3 similar berries in row, you pocket the group.
Hold onto what you have, be careful not to lose any from your pocket!
Have fun!
Collect berries in this fun and crafty game.
By collecting 3 simi
Related software (5)

Helicopter arcade game, suitable for novices, hardcore gamers and everyone in between. As you progress you'll face new, more dangerous enemies, new weapons and a variety of surpris ...

Move blocks and destroy obstacles, but don't get zapped by the laser beams. This puzzle game will make you think, but if you get stuck you can always use a hint and see how it is p ...

Intelligence reported that close to the Namibian settlement "Gibeon" in a dried-up riverbed "Hardap" was seen a caravan of insurgents suspected of Clan Desert Claw. According to ou ...

Susie always had a dream which was to open her own pastry shop. And she knows that true success will only come with effort. So she set off to sell her own cakes to pay for the vent ...

In this casual game Viking Journey, you have ferry Viking troops to the castle and using skill to be rewarded. The game is based on physical laws, so you can use anything from a si ...