Shoot n scroll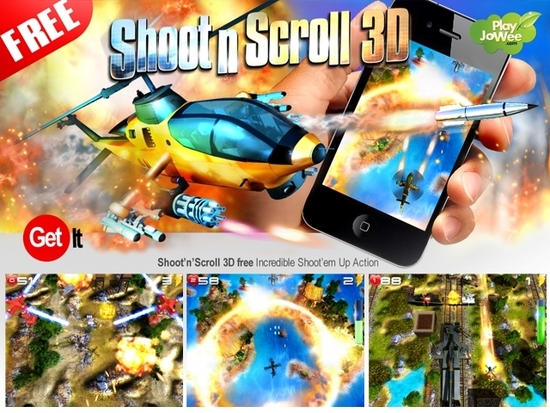 Download URL | Author URL | Software URL | Buy Now ($0)
Helicopter arcade game, suitable for novices, hardcore gamers and everyone in between. As you progress you'll face new, more dangerous enemies, new weapons and a variety of surprises. Intuitive controls use a single finger. Graphics adapted to both phones and tablets. Exciting sound effects. Ready? Fire up the propeller!
- Arcade scrolling shooter
- 10 levels
- Helicopter with 3 different super attacks
- Different machine guns and rockets
- 5 bosses
Helicopter arcade game, suitable for novices, hardcore gamers and everyone in between. As you progress you'll face new, more dangerous enemies, new weapons and a variety of surprises. Intuitive controls use a single finger. Graphics adapted to both phones and tablets. Exciting sound effects. Ready? Fire up the propeller!
- Arcade scrolling shooter
- 10 levels
- Helicopter with 3 different super attacks
- Different machine guns and rockets
- 5 bosses
Helicopter arcade game, suitable for novices, hardcore gamers and everyone in between. As yo
Related software (5)

Intelligence reported that close to the Namibian settlement "Gibeon" in a dried-up riverbed "Hardap" was seen a caravan of insurgents suspected of Clan Desert Claw. According to ou ...

Collect berries in this fun and crafty game. By collecting 3 similar berries in row, you pocket the group. Hold onto what you have, be careful not to lose any from your pocket! Hav ...

Immerse in the depths of the sea on your own submarine. Try to collect as many points by collecting starfish and avoid the dangers.

Nightfall arrives in the cemetery. The living dead emerge from their graves. Ghouls want to devour the protagonist, and he must fight to live. To survive the player must shoot from ...

An ancient temple arose right out of the ground, it's a miracle! It hovers in the air, delighting all in its majesty. What does conceal within its walls? Perhaps the greatest knowl ...