Odbc 4 all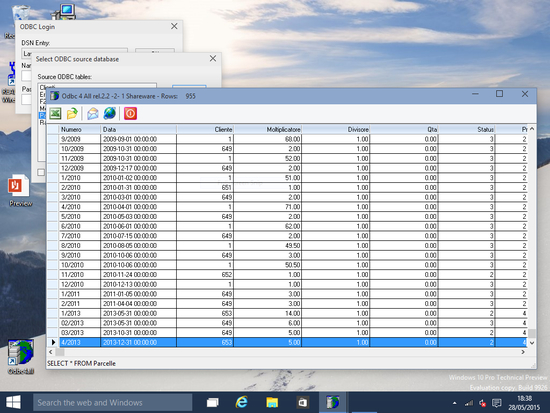 Download URL | Author URL | Software URL | Buy Now ($64)
ODBC 4 ALL is a 32 bit Windows utility designed to easily allow any application, including DOS apps and batch files, to run SQL queries using any ODBC data source, (Access, Informix, MySql, Oracle, Sql Server, ...), redirecting the output to the screen, an ascii file / table or a DBF table.

When run in interactive mode, you can interactively choose the ODBC Data Source and Table, then insert the SQL command to send to the database server. If the command is a SELECT, the SQL results can even be automatically shown on a screen grid (while INSERT, UPDATE etc. usually do not provides any output); you can browse the data there, send it to an Excel spreedshet, or create a configuration file to run the query again, later on, in batch mode.

Batch mode is particularly useful to use it inside a 3rd party application. You can manually create an ascii configuration file, or let the screen grid automatically creating it for you, then run ODBC4ALL.EXE to obtain the results of the SQL query into t
Related software (5)

xBaseView is a multi-functional database tool designed for novice database administrators or advanced database users. It looks like Explorer: the database files are displayed in a ...

View and Syn Microsoft Access, Excel, Oracle, Foxpro, dBase or any ODBC enabled database with palm.Add, Delete, Modify Database records on palm. Get updated desktop data on palm a ...
Easy Chart 3D GEO is easy to use graphical reporting tool for effortless generation of business, management, financial and ad-hoc pie charts (Cylinders and Cubes also supported) of ...

Import/export of text files (CSV, XLS, XML, DBF, ASCII, SQL) from/to MS Access, MS Excel, MS SQL Server, MySQL, SQLite, PostgreSQL, Oracle, OleDB and ODBC data streams. A graphical ...

Allows any application, including DOS apps and batch files, to easily run SQL queries using any ODBC data source, (Access, MySql, Oracle, Informix, ...) redirecting the output to t ...