Database viewer-editor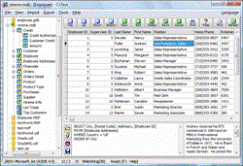 Download URL | Author URL | Software URL | Buy Now ($39)
xBaseView is a multi-functional database tool designed for novice database administrators or advanced database users. It looks like Microsoft Windows Explorer and allows you to work with databases just like in Explorer: database files are displayed in a folder-tree and you can open it with the mouse. With xBaseView, you can perform all typical operations such as searching, filtering and printing of records. It can open any database via the ADO, ODBC and BDE universal industrial technologies, and can directly open 15 types of databases.

xBaseView provides direct export to 16 formats (direct import - from 14 formats), and it can export (and import) them to any database format via the universal technologies. Database experts will be able to create up to 10 various types of files; perform SQL-queries and other operations. With xBaseView, you can OPEN files of the following types: .dbf (VFP/FoxPro/dBase/Clipper), .dbc (Visual FoxPro), .db (Paradox), .mdb (Access), .myd (MySQL), .gdb (Inter
Related software (5)

The Program XL Report Builder is a powerful and flexible tool for creating reports of any level of difficulty in the form of the Microsoft Excel Book.

Import/export of text files (CSV, XLS, XML, DBF, ASCII, SQL) from/to MS Access, MS Excel, MS SQL Server, MySQL, SQLite, PostgreSQL, Oracle, OleDB and ODBC data streams. A graphical ...

Allows any application, including DOS apps and batch files, to easily run SQL queries using any ODBC data source, (Access, MySql, Oracle, Informix, ...) redirecting the output to t ...

The Layer2 Cloud Connector syncs your local or cloud-based external data with native SharePoint lists and libraries, e.g. database queries, web services, files, ERP/CRM: codeless, ...

DataSlave is a powerful tool for moving data in and out of databases. DataSlave supports many data forms and will quickly and simply move, validate, de-duplicate and clean your va ...