Flowheater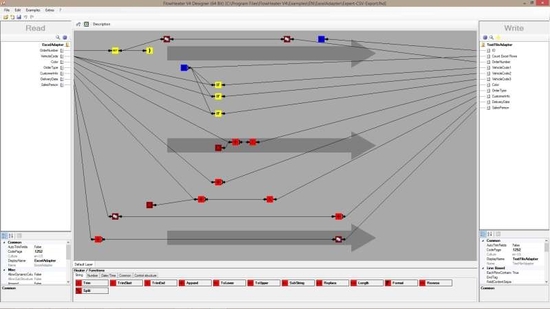 Download URL | Author URL | Software URL | Buy Now ($0)
FlowHeater is a powerful tool for connecting widely differing data sources and targets using a flexible graphically defined conversion. CSV (text) import/export becomes childs play. Adapters are available for import/export/update of MS Access, MS Excel, MS SQL Server, MySQL, SQLite, PostgreSQL, Oracle, OleDB and ODBC data sources as well as text formats (CSV, TXT, ASC, ASCII, Flat File...). The individual adapters can be used in any combination with one another.


Adapters available include:

- Text file (CSV, TXT, ASC, Flat File, ...)

- MS Excel

- XML Files

- MS Access

- MS Sql Server

- MySQL

- SQLite

- PostgreSQL

- Oracle

- any ODBC Datasources

- any OleDB Datasources, Supports dBASE (dbf) databases

- .NET DataTable, for your own Adapter

- generate test data



Main features

- Intuitive graphical model controls the transformation

- SQL insert/update script generation


Related software (5)

xBaseView is a multi-functional database tool designed for novice database administrators or advanced database users. It looks like Explorer: the database files are displayed in a ...
Easy Chart 3D GEO is easy to use graphical reporting tool for effortless generation of business, management, financial and ad-hoc pie charts (Cylinders and Cubes also supported) of ...

The Layer2 Cloud Connector syncs your local or cloud-based external data with native SharePoint lists and libraries, e.g. database queries, web services, files, ERP/CRM: codeless, ...

DataSlave is a powerful tool for moving data in and out of databases. DataSlave supports many data forms and will quickly and simply move, validate, de-duplicate and clean your va ...

Multi-database reporting tool, SQL editor, Visual SQL designer, OLAP tool, Table viewing/editing tool, Report designer tool. Connects to any of the 11 major SQL database engines. R ...