Nncron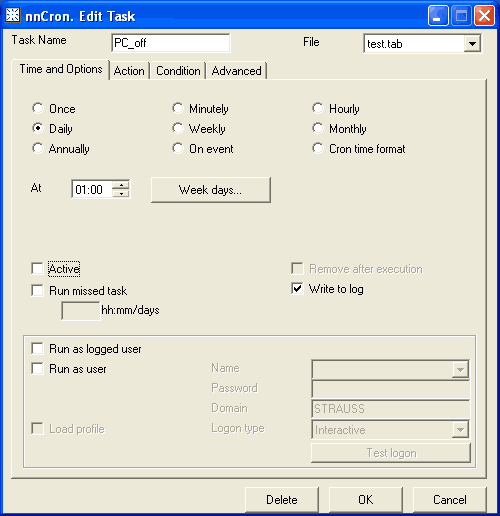 Download URL | Author URL | Software URL | Buy Now ($25)
nnCron is an advanced scheduler, scripting tool and automation manager. Besides possessing the traditional scheduler features (starting programs, displaying reminder messages and opening documents at specified time), nnCron also can:
- start any program as a service,
- run tasks as if they were started by specified user,
- handle and restart so called missed tasks and reminders,
- shut down and hibernate the computer or put it into sleep mode at a specified time,
- "wake up" the computer in order to run a task,
- display/hide/close/kill/minimize/maximize and hide specified windows to system tray,
- display messages on screen and write them in a log file,
- work with clipboard, files and registry,
- emulate keyboard input and mouse activities,
- dial and hang up,
- use the system speaker to make beeps of specified length and frequency,
- play audio files,
- sync system time,
- assign a specified priority to a process,
- terminate any running process,
- restart automatica
Related software (5)

iMacros relieves the repetition of checking on the same sites every day, remembering passwords and filling out web forms or web scraping. Web professionals can use the software for ...

It is the world's first technology that allows you to automate and test web sites using images instead of cumbersome X/Y coordinates. It relies only upon the images that are render ...

SoundTimer is simple and flexible short-term task scheduling utility. It can perform "open", "play", "execute", "print", "queue", or other actions on documents or programs, schedul ...

A special edition of an advanced task scheduler that allows you to prepare system maintenance tasks locally and deploy them to all computers in your organization. Control remote ta ...

AutoIt is a simple tool that can simulate key presses, mouse movements and window commands in order to automate any windows based task. AutoIt features a BASIC-like syntax and can ...