Multiplayer senet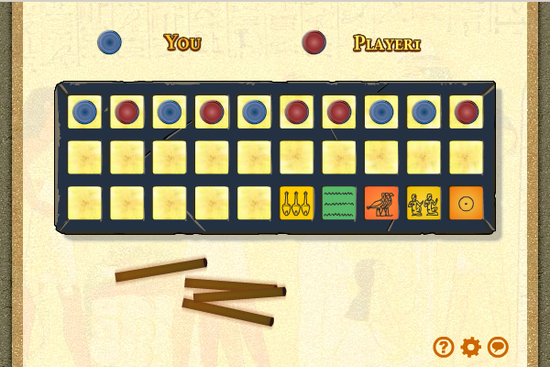 Download URL | Author URL | Software URL | Buy Now ($0)
Start your time travel and discover the mysteries of ancient Egypt in this 2-player game which dates back to 3100 BC! Your goal is to move all your pieces away from the board before your opponent does so. When the game starts, you will be given a board consists of 30 squares, which are evenly divided into 3 rows. Each player will be assigned a set of blue or red pieces, and all the pieces will be placed alternatively on the topmost row of the board. The pieces should move from left to right on the topmost row, then travel from right to left on the middle row, then from left to right on the bottom row. You and your opponent will take turns to throw a set of 4 sticks. During your turn, click the button on the screen to throw the sticks, and the number of face-up sticks will be the number of steps you can take: 1-4 face-up sticks = 1-4 steps; no face-up stick = 5 steps. You can then click and drag one of your pieces to an empty square, or move to a square currently occupied by an opponent
Related software (5)

Be the first to fly all your planes to the destination!

Challenge your mind and luck in this famous board game!

Block your opponent's path and be the first to empty your hand!

Discover one of the oldest board games in history!

This is a fun game with elements from Pachisi and Aeroplane Race.