Multiplayer dominoes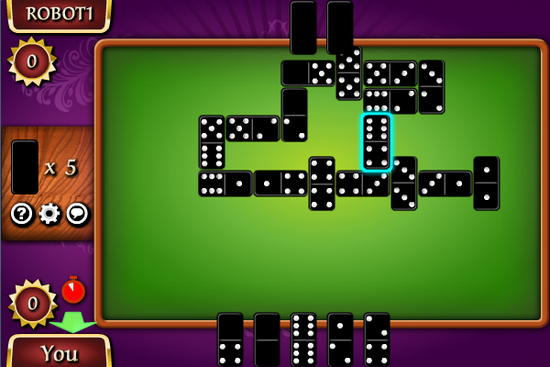 Download URL | Author URL | Software URL | Buy Now ($0)
Ever wondered why dominoes is one of the most famous tile-based games in the world? Come and experience its unlimited fun now! Your goal in Multiplayer Dominoes is to place all tiles in your hand onto the table before your opponent does so.

The game is played with a set of 28 tiles. Each of the tiles has two sides, each of the sides is marked with 0 to 6 pips, for example 0-0 (a completely blank tile), 1-0, 1-1, 2-0, and so on. A tile which has the same number on both sides is called a "double." All combinations of numbers on the tiles are unique so that no two tiles are the same. When the game begins, each player will be dealt 7 tiles. The player who holds the highest double, or the highest rank of tiles if neither player is holding a double, will start the game. The two players will take turns to place a tile onto the table. During your turn, you can choose a tile in your hand which has a matching number of pips on one side with that of a tile on either end of the domino chain, then
Related software (5)

Cover the most boxes to avoid penalty points.

Challenge your mind and luck in this famous board game!

Discover one of the oldest board games in history!

Play like a Pharaoh in the ancient Egyptian game of Senet!

This is a fun game with elements from Pachisi and Aeroplane Race.