Kinsole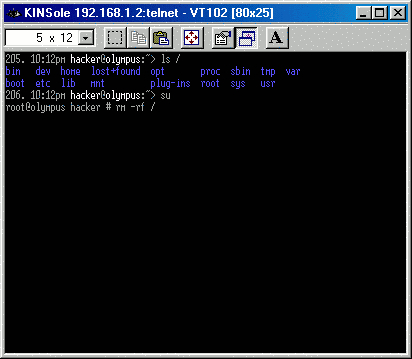 Download URL | Author URL | Software URL
KINSole is a free, open source Win32 implementation of client side of the telnet protocol, described in detail in the RFC854 and related RFCs. It uses win32 console API and therefore may run both windowed and in fullscreen character mode. Unlike some other telnet clients it implements many telnet options, like "are you there", "timing mark", etc. described in RFC855, RFC857, RFC1091, RFC1073, RFC1572 and, probably, some others.
Related software (5)

MobaXterm is a set of network tools included in a single portable exe file. MobaXterm integrates an X server and several network clients (SSH, RDP, VNC, telnet, rlogin, sftp, ftp, ...

Secure Terminal Emulator (TN3270, VT, WYSE, XTERM, LINUX, HP, ...), FTP Client, Batch FTP. Connection: SSH, SSL, TLS, Telnet, RS232. Authentication: Password, Keyboard-Interactive, ...

The SocketTools ActiveX Edition is a collection of over twenty controls for Internet application development. Includes 32-bit and 64-bit controls with support for IPv6 networks and ...

A Terminal Emulator for handheld computer terminals running Windows CE, Windows Mobile or Windows Embedded Handheld. All three major emulation modes are including VT, 3270, 5250. I ...

Scanner of shared resources. Advanced tcp/udp terminal. Free and fully portable.