Sockettools activex edition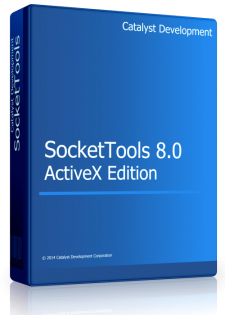 Download URL | Author URL | Software URL | Buy Now ($395)
The SocketTools ActiveX Edition is a collection of over twenty Internet controls that can be used with Visual Basic, Visual FoxPro, dBase Plus, PowerBuilder and most other software development tools that support ActiveX controls. Upload and download files, send and receive emails, execute remote commands and access web services with just a few lines of code. SocketTools is designed to make it easy for you to add Internet functionality in your applications, without any complex programming or in-depth knowledge of how the various protocols work.

SocketTools supports all of the major Internet protocols, and includes both 32-bit and 64-bit ActiveX controls in the same product. They can be used as standard controls, as automation components for Microsoft Office and other applications, or as scripting components in languages such as VBScript. SocketTools supports both IPv4 and IPv6 network connections and includes support for both standard and secure, encrypted connections using SSL/TLS and
Related software (5)
A powerful web server that handles multiple domains and supports PHP, Perl, MySQL, and much more.

The SocketTools .NET Edition is a collection of Internet components for Visual Studio 2013 and earlier versions. Includes support for 64-bit platforms, IPv6 networks and secure con ...

ActiveX COM objects which let your applications create, send, manage, download and parse mail. SMTP, POP3, IMAP, SSL, Gmail, S/MIME, HTML mail, attachments, international charsets, ...

The SocketTools Library Edition is a collection of libraries for Internet application development. Includes over twenty 32-bit and 64-bit DLLs with support for IPv6 networks and se ...

MailBee S/MIME ActiveX enables MailBee Objects (SMTP, POP3 and IMAP4) to process S/MIME mails. Supports file and registry certificate stores, PFX, sign, verify, encrypt, decrypt, 3 ...