Iopus file and website downloader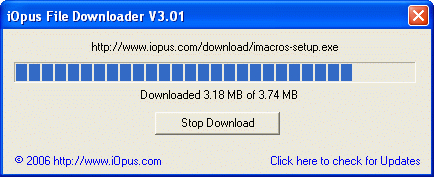 Download URL | Author URL | Software URL
Automate, schedule and batch file and web page downloads with command line utility. Very easy to use and integrates well with batch files, windows scripts, visual basic or the windows task scheduler. Ideal for automatically downloading files, patches and for stress and load testing your download web server. A must have utility for every internet and system administrator tool box. Freeware!
Related software (5)

iMacros relieves the repetition of checking on the same sites every day, remembering passwords and filling out web forms or web scraping. Web professionals can use the software for ...

Clear History is free application to securely destroy all evidence of your computer usage and internet activity. Contains Startup Manager and Junk Remover. Clean IE and Firefox his ...

The 'IE Cache and History viewer' is a simple and fast freeware utility that allows you manage the internet explorer cache. You can examine web pages you have visited and clean t ...

It is the world's first technology that allows you to automate and test web sites using images instead of cumbersome X/Y coordinates. It relies only upon the images that are render ...

Bonodi XML Editor is a multilingual XML editor for MS Windows 98/Me/NT4/2000/XP. You can edit XML documents in English, Japanese, Chinese, Korean, Russian, Greek, Thai, Hebrew, Ara ...