Extreme fast data organizer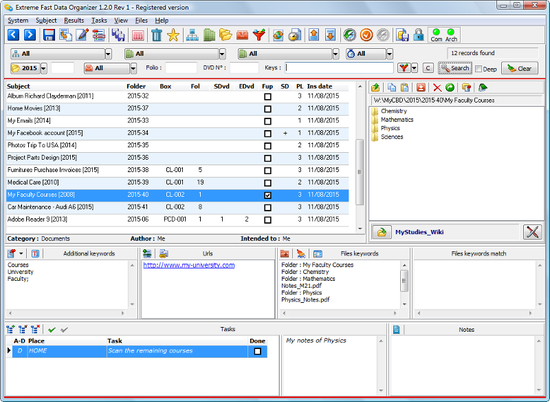 Download URL | Author URL | Software URL | Buy Now ($33.44)
Extreme Fast Data Organizer (ExFDO) is a powerful organizer implementing a FAST organization method to QUICKLY STORE and FIND your personal DATA and OBJECTS without losing time to search everywhere and to create organization schemes that can be forgotten or changed. This method is based on the principle that 'DATA AND PHYSICAL OBJECTS ARE SUBJECTS'. So, each time you deal with a subject, whatever is the subject, create it and add data to it using ExFDO. Added data can be files, notes, urls, secret data, location of OBJECTS, tasks to do, search keywords... In this way, you constitute as you go along, a big database of personal subjects that you can easily query to QUICKLY find what you look for whether it is computer files, notes, urls, passwords, paper documents, data storage Medias, or any personal data or object. The software is portable and very efficient if installed on a dedicated External Hard Disk (USB) which is used to host all your personal subjects and data for life. Here is
Related software (5)

A free file finding and text searching tool: * Regular expression text search * High performance search algorithm * Wildcard and regular expression file search * Recursive director ...

Remove Duplicate Files - remove Duplicate Files, remove Duplicate Music and remove Duplicate Photos in one click. Sort, organize and automatically remove duplicates, duplicate musi ...

Organize MP3 Music - easily? Then you need MP3 Music Organizer Platinum. With such powerful music organizing software all MP3 music files will be organized. Organize MP3 Music righ ...

Find Duplicate Files - easily? Find duplicate files, find duplicate music and find duplicate photos - in one click with automatic duplicate file finder. Find Duplicate Files right ...

2 in 1. Clean up your Mac's hard drive of tons of unneeded files and find duplicate files with just a drag & drop. We have combined two essential utilities for your Mac in one effe ...