Disk health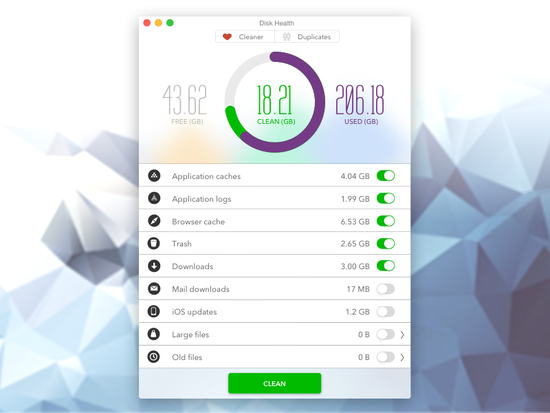 Download URL | Author URL | Software URL | Buy Now ($4.99)
2 in 1. Clean up your Mac's hard drive of tons of unneeded files and find duplicate files with just a drag & drop.
We have combined two essential utilities for your Mac in one effective App, with a gorgeous and user friendly interface, suited for OS X Yosemite and retina displays as well as standard displays and previous OS X versions.

Disk Health is fast, reliable and easy to use.
Reclaim dozen of gigabytes of valuable hard drive space.
In just a few clicks you can empty:
- Applications Caches
- Applications Logs
- Browser Cache and data (Safari, Chrome and Firefox)
- Mail Downloads Folder
- Downloads Folder
- iOS Old Updates
- Large Files (files within your user folder that are greater than a size you choose, default 100 MB)
- Old Files (files within your user folder that are older than a date you choose, default 1 year)
- Trash Can
- Find and remove Duplicate Files from folders and internal hard drive as well as removable ones

What differentiate Disk Health from competitors?
All
Related software (5)

1Click Sweep brings to you 10 + utilities that work together or separate so that no important traces are left after using the World Wide Web or your PC and other service that invol ...

Find Duplicate Files - easily? Find duplicate files, find duplicate music and find duplicate photos - in one click with automatic duplicate file finder. Find Duplicate Files right ...

Photo watermark software which allows you to add easily add watermarks to one or more photos with a simple point and click.

Protect your internet privacy, clean up the garbage on your pc, and improve your pc performance. Cleans up all browser data including IE, Mozilla Firefox, Google Chrome, and AOL. I ...

Powerful and flexible hard disk space manager. TreeSize Personal shows the size, allocated and wasted space, 3D charts, last access date, file owner, NTFS compression rate and more ...