Defensor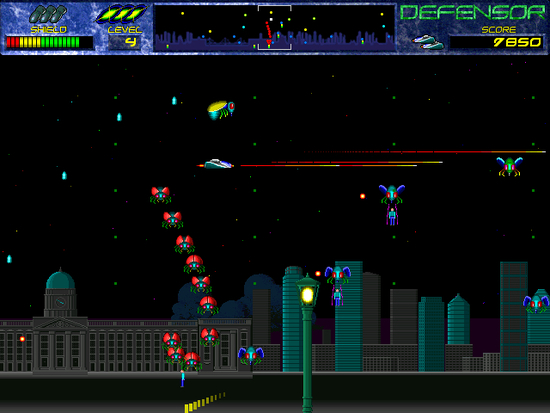 Download URL | Author URL | Software URL
Defensor is a superior quality, horizontally-scrolling, shoot-them-up game for the PC. Defend the planetoid against alien invasion. Protect the humanoids from abduction and more. Destroy the waves of multiple alien bug types, all with individual characteristics, collect bonuses and power-ups, and prepare to battle the mother alien.

Due to the dynamic nature of the graphics, with fast, smooth multi-layer parallax scrolling, static screenshots just cannot do justice to the game. Download the full game now for FREE!

Featuring:

- Immersive, addictive & intelligent gameplay
- Fast, fluid, dynamic graphics
- Smooth, multi-layer parallax scrolling
- Varied landscapes
- Beautiful particle effects
- Responsive ship movements
- Collectible bonuses & power-ups
- Intuitive firepower - main & accessory lasers, smart bombs, terrain-hugging missiles
- Protective shields and hyperspace jumps
- Multiple alien types with individual characteristics
- Large end-of-level mother alien bug
- O
Related software (5)

Space shooter with spaceship upgrade possibilities. You can use the Shop at the beginning of every level to buy a more advanced spaceship, weapons, armor plating, reactor, shield, ...

Defensor is a superior quality, horizontally-scrolling, shoot-them-up. Protect the humanoids from abduction and more. Destroy the multiple alien bug types, all with individual char ...
You are a red haired winged baby that is in geo-orbital space and possess a Bow and Arrow. Wacky enemies are traveling towards you and have collected Sports Balls and Satellites t ...

This fast-paced, complex word puzzler tests your visual and dexterity skills in a graphically exciting arcade environment while pushing your vocabulary & word building skills to th ...

Addictive action freeware game with a number of bonuses and various enemies by FreewaresOnline.com.