Defensor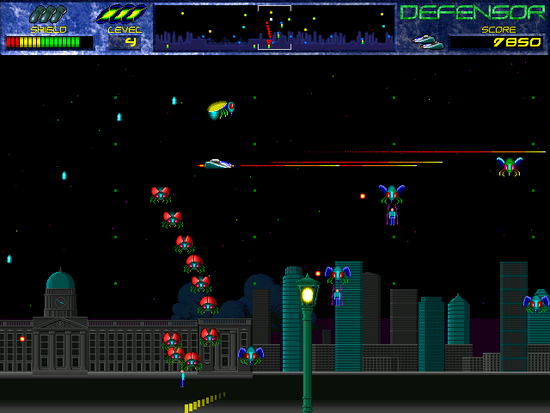 Download URL | Author URL | Software URL | Buy Now ($9.95)
Defensor is a superior quality, horizontally-scrolling, shoot-them-up game for the PC. Defend the planetoid against alien invasion. Protect the humanoids from abduction and more. Destroy the waves of multiple alien bug types, all with individual characteristics, collect bonuses and power-ups, and prepare to battle the mother alien.

Due to the dynamic nature of the graphics, with fast, smooth multi-layer parallax scrolling, static screenshots just cannot do justice to the game. Download the playable demo now, or buy the full game for only US$14.95!

Featuring:

- Immersive, addictive & intelligent gameplay
- Fast, fluid, dynamic graphics
- Smooth, multi-layer parallax scrolling
- Varied landscapes
- Beautiful particle effects
- Responsive ship movements
- Collectible bonuses & power-ups
- Intuitive firepower - main & accessory lasers, smart bombs, terrain-hugging missiles
- Protective shields and hyperspace jumps
- Multiple alien types with individual characteristics
- Large
Related software (5)

Awakening is a scrolling space shooter with ship upgrade possibilities. This game consists of 20 amazing levels. You can improve your ship configuration by installing new weapons, ...

If you are looking for the game with excellent 3d graphic, quick action, addictive plot, planets and characters verity, skill levels, appropriate for all tastes and ages then downl ...

Addictive action freeware game with a number of bonuses and various enemies by FreewaresOnline.com.

Stop the onslaught of many menacing monsters from invading with the rocket ship. You control the quick ship with either the keyboard or joystick and must shoot the horror characte ...

Defensor is a superior quality, horizontally-scrolling, shoot-them-up. Protect the humanoids from abduction and more. Destroy the multiple alien bug types, all with individual char ...