Cool timer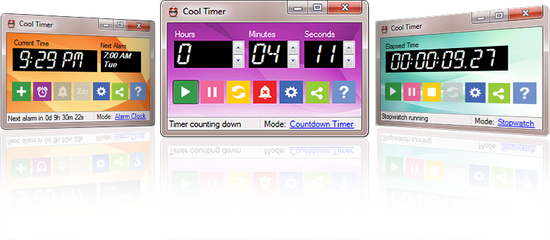 Download URL | Author URL | Software URL | Buy Now ($0)
Handy timer utility with many cool features. Can be used like an oven timer in countdown mode, an alarm clock, or a stopwatch. Unique visualization feature shows time passage graphically using any of several high-quality, built-in images or any image on your computer. In countdown mode, the image is gradually wiped away or revealed in a radial, clock-like, sweep pattern in sync with the time as it passes. This is good for kids who can't yet comprehend time passage using digits to understand how much time is left on the counter or for adults who prefer a visual representation of time as opposed to digits. This feature can be quickly and easily toggled on or off at any time. Use any of several built-in alarm sounds or any sound file on your computer. Countdown mode is great for teachers or parents to set a time limit for kids' tasks or activities. There is even a customizable, scrolling marquee message that can pop up when the alarm sounds. You can enter any text for the message and even
Related software (5)
The ultimate time-piece for Windows 95/98/ME/NT/2000/XP - Automate everything! 200-event scheduler, calendar, timer, alarm, stopwatch, time client, 24-city time zone window, dial-u ...

A spaceship landed onto a distant planet, where scientists have found a deposit of new resources. The ship started extracting such treasures of the planet as joy, pleasure, love an ...

SClock Plus is an easy-to-use desktop multilingual speaking clock with skin support and full-featured alarm system, that allows an user to set multiple alarms.

Desktop digital countdown timer and stopwatch program. The program features count-up/down modes, alarms, re-sizable colorful display, system-wide hotkeys, external control, split/l ...

Global Time Synchronizer is a versatile time keeping tool that has many features including the ability to modify the look of your standard desktop clock, an easy-to-use, convenient ...