Clockwise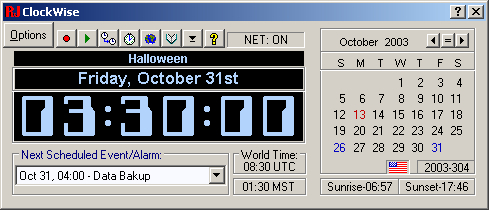 Download URL | Author URL | Software URL | Buy Now ($34.99)
ClockWise is the ultimate time utility for Windows. Includes a digital clock, time client, calendar, timer, stopwatch, dial-up network timer, scheduler, and reminder system. You can automate everything! You can schedule up to 200 external or built-in events! Run or close any program whenever you want. Built-in options include system reboot, shutdown, automatically setting the system time to the atomic clock at NIST or any Internet NTP server, connection or disconnection from the Internet and Active Desktop refresh. On-line timer log includes daily, weekly and monthly stats. The 24-city time zone window now has over 720 cities to choose from, and ClockWise even includes a useful time/date screen-saver!
Related software (5)

A superb suite of analog and digital clocks and other timekeeping tools. Featuring timezone clocks, internet time synchronization, alarm, calendar, daylight map and other accessori ...

SClock Plus is an easy-to-use desktop multilingual speaking clock with skin support and full-featured alarm system, that allows an user to set multiple alarms.

EarthWatch displays a graphical world clock with a dynamic map image of the world showing the day and night areas, a sundial, and an information panel featuring sunrise/sunset time ...

Get reminded in a simple way!

Global Time Synchronizer is a versatile time keeping tool that has many features including the ability to modify the look of your standard desktop clock, an easy-to-use, convenient ...