Commnet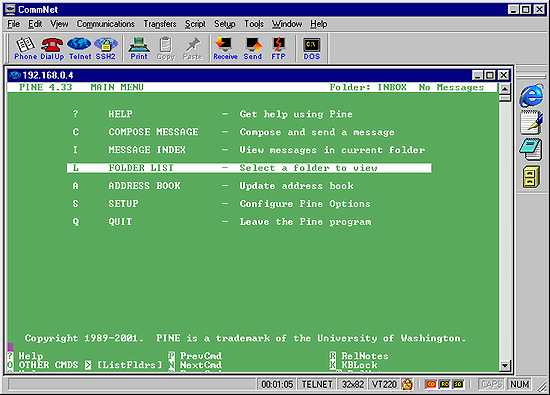 Download URL | Author URL | Software URL | Buy Now ($19)
CommNet is a 32-bit Windows application that seamlessly integrates modem dial-up and Internet Telnet capabilities. CommNet supports high performance Zmodem file transfers with dial-up and Telnet sessions; and Ymodem-G with dial-up sessions. CommNet supports FTP during Telnet sessions; and TTY, VT100, VT220, PC ANSI and SCO ANSI terminal emulations. A unique Telnet Host Mode Server allows other Telnet clients to connect to the user's system for chat and file transfer operations. CommNet offers a built-in Phonebook and expanded scripting and command-line options. Secure CommNet, a secure version of the software with SSH2 capabilities, is also available.
Related software (5)

A combination of luck and strategy game, the Backgammon is played under hundreds of variants since the high antiquity. 3D version, ergonomic intuitive interface, multiplayer game l ...

It is one of the oldest games of spatial strategy in the world presented in a 9 paws, 3D version with simple rules and countless strategic options. You play against the computer or ...
An easy to use network traffic monitor for the Windows-based platforms with the abilities of real time monitoring all traffic flowing around the local network and to/from the Inter ...

PingPlotter Standard is a network monitoring and troubleshooting tool. It runs in the background collecting, and then allows you to quickly look at the data when you experience pro ...

Secure CommNet is a 32-bit Windows application that supports dial-up, Telnet and Secure Shell (SSH2) connections over the Internet. Zmodem, FTP and TCP/IP port forwarding are suppo ...