Secure commnet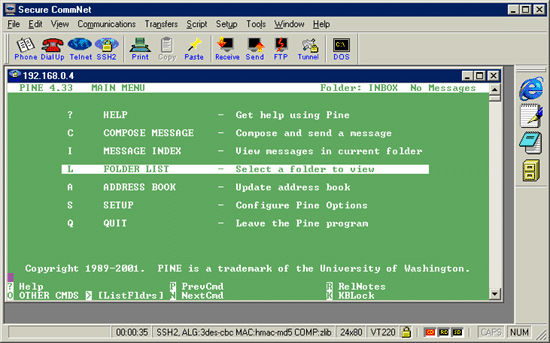 Download URL | Author URL | Software URL | Buy Now ($29)
Secure CommNet is a secure 32-bit Windows application that seamlessly integrates modem dial-up, Internet Telnet and SSH2 capabilities. Secure CommNet supports high performance Zmodem file transfers with dial-up, Telnet and SSH2; and Ymodem-G with dial-up sessions. For SSH2 connections, Secure CommNet offers TCP/IP port forwarding and supports the following encryption algorithms: AES256, Twofish, Blowfish, Triple-DES, Arcfour and Cast-128. Secure CommNet supports FTP during Telnet and SSH2 sessions; and TTY, VT100, VT220, PC ANSI and SCO ANSI terminal emulations. A unique Telnet Host Mode Server allows other Telnet clients to connect to the user's system for chat and file transfer operations. Secure CommNet offers a built-in Phonebook and expanded scripting and command-line options.
Related software (5)
An easy to use network traffic monitor for the Windows-based platforms with the abilities of real time monitoring all traffic flowing around the local network and to/from the Inter ...

Colasoft MAC Scanner is a scan tool using to scan IP address and MAC address. It can detect the specified subnets and scan the MAC addresses and IP addresses. Users can custom own ...

ActiveXperts Network Monitor monitors your computers and devices. Monitors Windows, UNIX, Linux and Novell. Monitors Active Directory, web/mail servers, file servers, databases, di ...

CommNet is a 32-bit Windows application that supports dial-up and Telnet connections over the Internet. Secure CommNet, a secure version of the software with SSH2 capabilities, is ...

serverMon LE is a utility to monitor the health of your connection to a remote computer using ping and file download requests. Both a host name and IP address can be monitored and ...