Blackjack ace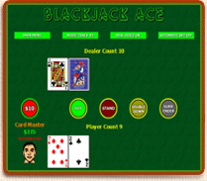 Download URL | Author URL | Software URL | Buy Now ($10)
Play against the dealer in a super fun style BlackJack card game. Practice your BlackJack skills competing against the dealer with the option of choosing 1, 2, 4, 6 and 8 decks of cards. Choose from 24 different avatars to represent yourself at the table. Turn on the autobet feature to play quickly and seamlessly without a lot of mouse clicking. Choose from 3 different background music tracks while you are playing to enjoy some relaxing sound. Select the casino style background noise to give you the real effect like being on the casino floor. You have the option of having the announcer call out your hand total with the real voice game play. Master the game to uncover larger betting opportunites by playing well and making a lot of play money. The game also keeps your player statistics so you can actually see the percentages. A very exciting way to learn and play the game of BlackJack.
Related software (5)

A breakout extravaganza with totally unique levels, music, graphics and boards. You choose which levels to play in the order you want. Each board consists of its own theme and musi ...

You are in control of a fox and must navigate through 50 fun mazes while eating a variety of food all the while avoiding the haunting ghosts that are after you. Swallow the power ...
Click on letters in the 25 tile puzzle board to make valid English words while trying to figure out the mystery word to gain extra points. There are 1,000 mystery words in 14 diff ...

A fun and unique Tetris game with 8 puzzle pieces. All the standard ones are included and even some different designed ones. Each level the game will speed up and throw you a lar ...

Grab tools, bonuses and powerups without getting hit by trucks pacman style. Drive and navigate your fast car through 50 level mazes of pure excitement. A variety of features inc ...