Artifact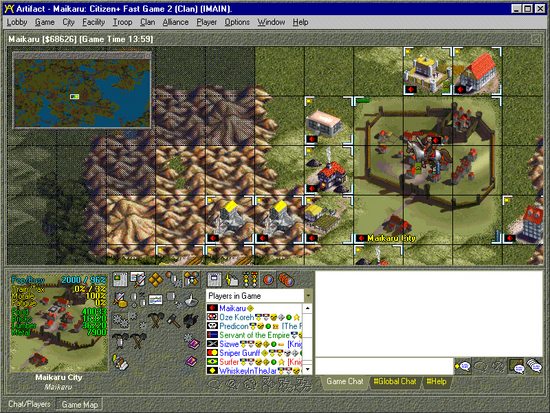 Download URL | Author URL | Software URL | Buy Now ($19.95)
Artifact is a Multi-Player, Persistant World, Real-Time Strategy game.

Compete against the Ultimate Opponents - Real, Live Players from all over the United States and the World come together to battle for control of the Artifacts. Not only do you compete with other players, but you can also create alliances with them to "guard your back" while you're offline.

The Thrill of Real-time Combat - All building, movement and combat are resolved in "real time." Build your empire, scout your neighbors, and wage war on your enemies, all in real time.

The Challenge of a Persistent World - Artifact is always running. When you log out, your empire is still there--your population is still growing, your workers are still working, your military is still there defending your holdings.

Free to Play! - Artifact is FREE to play for as you like. Learn to play without paying a cent, or go for Full Access right from the start. It's your choice!
Related software (5)

Free turn based wargame covering Operation Typhoon in late 1941. Replay the German unsuccessfull attempt to capture Moscow, followed by the Russian counter-offensive that denied th ...

Domination is a free Internet multiplayer area-control strategy game where up to eight players or bots compete to control fictitious countries on a hex grid using dice-controlled a ...

Do quests, battle monsters/beasts, fight players, place bounties and more in the Algadon free medieval/fantasy role playing game (RPG). Players can buy weapons, armor, spells, food ...

Find and destory enemeis command center - big red heilcopter and all enemies objects and helicopters. Capture clouds to get bonuses, capture piltos to icnrease point or kill them. ...
Play a card from your hand and then place a chip on the matching square on the board. Get five chips in a row to get a Quence. Special cards make the game unpredictable. Needs The ...