Tams11 quence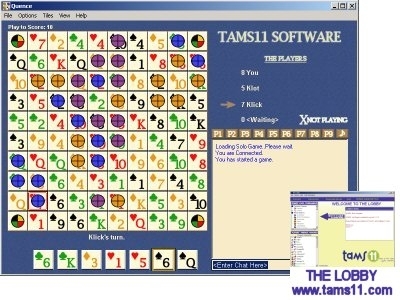 Download URL | Author URL | Software URL
Play a card from your hand and then place a chip on the matching square on the board. Get five chips in a row to get a Quence. Special cards, such at bombs and wild cards, make the game unpredictable. It's easy enough for a child to learn, but challenging enough for adults to enjoy. Needs The Lobby (tams11.com) to play online against other players.
Related software (5)

TurnAbout is a free Internet multiplayer Arcadia game creator which allows you to craft and share your own multiplayer games, using the Arcadia multiplayer game/chat/server environ ...

SynSpades is a free multiplayer card game with 4 tables per channel. Play with partners or free for all. Award-winning bots (from my earlier game NetSpades) are available to fill ...

Write messages, chat with friends while playing backgammon. Play Backgammon 24 hours, 365 days a year. Participate in backgammon tournaments and mess with your friends online. A ...

Erotic PC game, based on the Greek and Trojan epos, LoveChess takes you to a place where the gods have sex on the chess board. Free full version!

Play this Tams11 version of the popular game Backgammon. Be the first to move all your chips into the home slot to win the game. Includes the option to play Acey Deucy. Needs the T ...