Algadon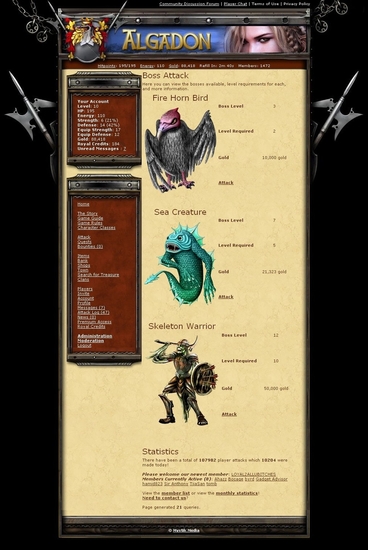 Download URL | Author URL | Software URL
Algadon is a free medieval/fantasy themed role playing game that allows players to perform quests, battle monsters and beasts, fight other players, place bounties, and more. Players can buy weapons, armor, food, and potions to help in advancing levels, training to become stronger, and performing quests. Players can also join a clan (optional), send private messages, or post public profile messages. As you advance through the game, additional quests, weapons, armor, and more become available.
Related software (5)

Domination is a free Internet multiplayer area-control strategy game where up to eight players or bots compete to control fictitious countries on a hex grid using dice-controlled a ...

Empyrion is a free Internet multiplayer Real Time Strategy game for 8 players, with integrated map and empire editors.

SynSpades is a free multiplayer card game with 4 tables per channel. Play with partners or free for all. Award-winning bots (from my earlier game NetSpades) are available to fill ...

Well of Souls is Synthetic Reality's FREE multi-player Role Playing Game (MMORPG). It is extensible through a simple scripting language so that you can compose your own quests, cre ...

Play this Tams11 version of the popular game Backgammon. Be the first to move all your chips into the home slot to win the game. Includes the option to play Acey Deucy. Needs the T ...