Alone in winter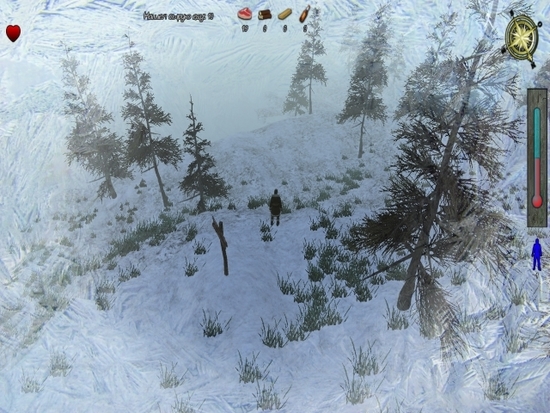 Download URL | Author URL | Software URL | Buy Now ($0)
The protagonist was left all alone, without supplies.
However, he finds an abandoned house in the woods and he must prepare for the cold winter to come. Collect food in the forest and chop down trees to
get firewood and building materials.
Firewood is needed to heat the stove, so the house becomes a safe refuge to stay warm, eat and sleep.
If it gets really cold there are some warm drinks, but they are scarce.

Controls:
WASD - Forward, left, backward, right
Left mouse button - Execute the action
Rotate the mouse wheel - approaching / angling camera
Hold down the mouse wheel - rotate the camera
Spacebar - Run / Walk

The protagonist was left all alone, without supplies.
However, he finds an abandoned house in the woods and he must prepare for the cold winter to come. Collect food in the forest and chop down trees to
get firewood and building materials.
Firewood is needed to heat the stove, so the house becomes a safe refuge to stay warm, eat and sleep.
If it gets really cold there are
Related software (5)

The game is called Bood in which you play as jelly. Pass through each area, using his wits and dexterity! The game has 15 challenging levels. Good luck!

Ready to pull your nerves? Waiting for you 8 levels of which 5 will try to kill all of your nerve cells. The game does not have any bonuses. But not bad music and gameplay. I think ...

Are you often irritated by the complexity of Flappy Bird? You do not like her uninviting graphics? Then you're not alone! Here is a game based on Flappy Bird with colorful graphics ...

SpaceFighter is a hardcore arcade game of survival in which you must dodge asteroids. You are given different weapons to defend the ship. Score points for every asteroid that you d ...

Emotional and simple gameplay, great physics. Mini Football is easy and fun to play! Play with your friends online. Play blitz games against players from all over the world. You c ...