Zeroin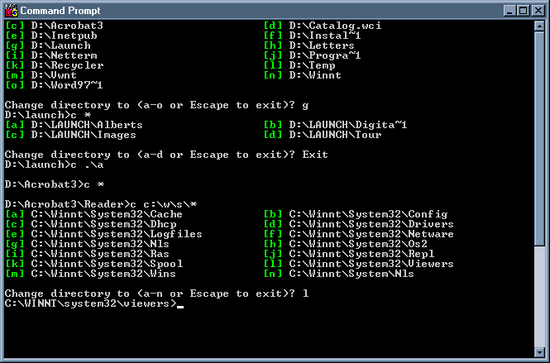 Download URL | Author URL | Software URL | Buy Now ($19.95)
Fast CD replacement with Windows 95/98/2000/NT/XP long filename support, history,aliases, fixes your spelling, partial name matching. A must have for Windows 95 long filenames. Does NOT require index files. List for multiple matches. Matches / and \, ... etc. Create dir if not found.

With ZeroIn you can
* easily move between commonly used directories
* easily return to a recently used directory
* ignore platform differences like Unix / and DOS \
* abbreviate directory names
* change drives and directories at the same time



What's New
==========

* Now has native 32-bit executable for handling long filenames under Windows 95, 98, 2000 and NT, as well as the original 16-bit executable for DOS, Windows 3.1 and 95.
* Flag to prevent ZeroIn from suggesting that a directory should be created
* HTML help documentation
Related software (5)

This software slows down computers so you can run old legacy programs and games. It prevents runtime errors, and you can configure cpukiller to launch your old software at a user- ...

An extremely fast utility for your files integrity control. The high accuracy attains through the usage of a cryptographic algorithm, as a matter of fact FastSum is a Windows MD5 C ...

Take control of your data with FastSum. Fingerprint your important files now and check the integrity after a network transfer or a CD\DVD burning etc. simply by taking the fingerpr ...

The Program is designed to accelerate access to your folders and files by placing bookmarks directly to the standard Open-Save Dialogs.

Fast CD replacement with Windows 95/98/2000/NT/XP long filename support, history, aliases, fixes your spelling, partial name matching. A must have for Windows 95 long filenames. Do ...