Fastsum standard edition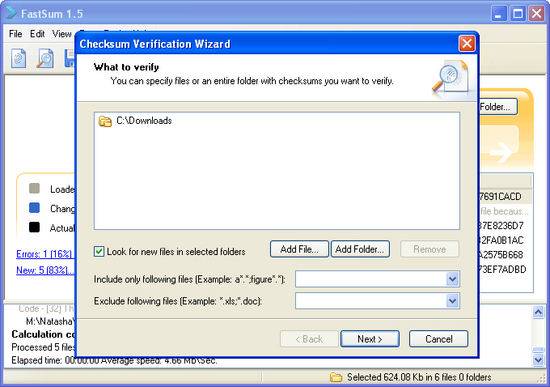 Download URL | Author URL | Software URL | Buy Now ($14.95)
Take control of your data with FastSum. Fingerprint your important files now and check the integrity after a network transfer or a CD burning simply by taking the fingerprints again and comparing them with the previously made ones. In the same way you can also find out whether your files had been damaged by viruses, network issues or CD/ DVD burning failures. To save your time FastSum is based on a well-known and time-proven cryptographic MD5 checksum algorithm that makes the calculations and verifications very fast. Process thousends of files and see how it works, this utility is especially designed for such cases and goes easy on your CPU. Furthermore, handy step-by-step Wizards, special filters which enable you to mask specific file types and Internet Explorer shell integration make your work even easier. And you also can work with different lenguages without having any problems because FastSum is absolutely Unicode. Try this Windows utility for your self and descover many other use
Related software (5)

Fast, highly optimized implementation of popular checksum algorithms: CRC32, CRC16, CRC16C (CRC-CCITT). The library allows to calculate checksums for files, memory blocks, strings, ...

An extremely fast utility for your files integrity control. The high accuracy attains through the usage of a cryptographic algorithm, as a matter of fact FastSum is a Windows MD5 C ...

Fast file checksum generation & verification tool. Supports MD2,MD4,MD5, SHA-1,SHA-2, RIPEMD-160,PANAMA,TIGER, CRC-32,ADLER32 algorithms and the hash used in eMule/eDonkey(ed2k). C ...

Fast calculator to compute hash, checksum, HMAC values for file, text and hex string. Supports MD2,MD4,MD5, SHA1,SHA2, RIPEMD160,PANAMA,TIGER, CRC32,ADLER32 algorithms and the hash ...

data recovery software for windows FAT NTFS recover lost deleted formatted erased files and folders form disk partition crashed hard drive retrieve file data hard disk digital medi ...