Ultimate settings panel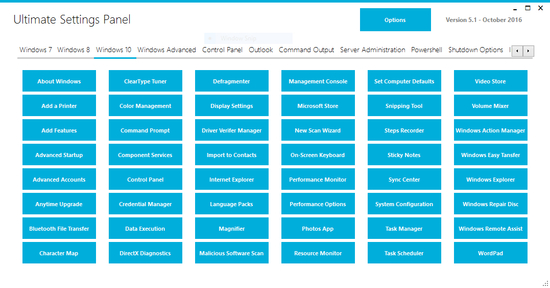 Download URL | Author URL | Software URL
An all in one settings solution for a multitude of configuration options in Windows, Office, Powershell and popular internet browsers. This release now has 13 different configuration tabs including Windows 10 and a total of 283 configuration items spanning across all versions of Windows, Powershell, Outlook, Server Administration, Google Chome, Firefox and Internet Explorer. Ultimate Settings Panel is a panel based utility giving you the option of selecting from a wide range of different configuration options. So all you have to do is select a panel and click the button for the configuration item that you wish to use. This program also includes Windows God Mode built into it for extra configuration items.
Related software (5)

Distributed system providing detailed information on computers in a network. It performs real-time monitoring of system-critical parameters making it possible to diagnose existing ...

Turn Microsoft Word Documents into a Home Page! Define a structure over existing Microsoft Word Documents you want to publish on the internet. Signumsoft HtmlNavigator will build a ...

An all in one settings utility for a multitude of configuration options in Windows, Office and Server based systems. This is the free Lite version, but a more enhanced Pro version ...

Software serial port monitor Rs232 sniffer with protocol analyzer and packet data logger. This monitoring utility can spy, capture, view, log, analyze test com ports activity perfo ...

Windows advanced processing information tool. This is a Windows Operating System tweak that turns on the logging information when your machine is booting up, logging in and shuttin ...