Remote performance observer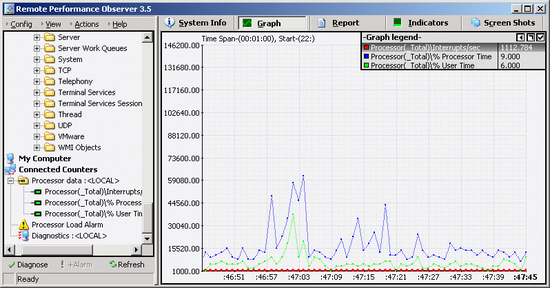 Download URL | Author URL | Software URL | Buy Now ($49)
Major system capabilities:
Remotely collecting data on machines' resources usage (Memory, Processor, Hard Drive, Network Adapter, etc.),
current services and protocols states on the machine (Web Service, Indexing Service, IP, TCP, UDP, ICMP, SMTP, etc.),
OS critical parameters (Paging File, Running Processes, etc.),
running processes information (Processor Usage, Memory Consumption, Threads, Priority, etc.).
Setting remote expert diagnosis on processor, memory, hard drive, network components.
Maintaining alarms with logging to a file, playing sounds, sending e-mails, sending messages to the machines and much more.
Visualizing data in the following ways: at the graph, as statistical report, as indicators (bar, gradient and scale).
Sending short messages to the users of the stations in a network.
Making screen shots of remote desktops.
Performing remote administration tasks: running programs, locking machines, etc.
Related software (5)

Configurable UDP and TCP port forwarding for Windows. Define IP address ranges to allow or block for each port being forwarded. Have program forward multiple ports simultaneously. ...

"Temperature Scan is an affordable Temperature monitoring system that allows you to be notified of changes in temperature as they happen. This tool can be used to monitor server ro ...

Allows you to quickly & easily monitor your Windows File & Print server, including local printers & print queues, changes made to both local and remote files, the contents of those ...

ComSpy2 is a handy and reliable utility designed to process data packets received or sent between communication objects. Originally developed to listen on serial ports and then exp ...

Software serial port monitor Rs232 sniffer with protocol analyzer and packet data logger. This monitoring utility can spy, capture, view, log, analyze test com ports activity perfo ...